I've been drinking a lot less water lately, and I could see its effects on my skin. My face was drying out. I felt like my skin was turning (50 shades of) grey. When I'm stressed out, I tend to drink a lot more coffee and go light on the water intake — a big no-no. To motivate myself to hydrate more, I've started making my water taste a little better.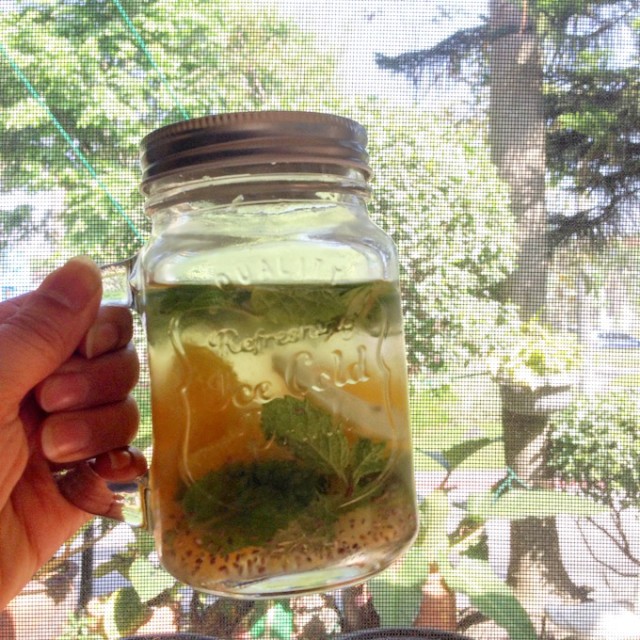 Water with Lemon, Ginger, Mint, Cucumber, Oranges and Chia Seeds
I've blogged about Flat Tummy Water before. The way I flavour my water today is more or less the same way I made Flat Tummy Water (ginger, lemon, mint, cucumber). This time though, the easing away of the bloatedness is a bonus. The bigger benefit is hydrating better especially with the days heating up more and more.
This is quite easy to prepare, and you can mix up the ingredients. My favorite combinations so far are:
ginger and lemon (the more gingery the water, the better!)
oranges, lemon and ginger
mint and cucumber
I add a sprinkle of chia seeds in any of the combinations for a superfood bonus!
This pretty much is how I drink more water now. I find myself drinking more often because I love the taste — especially the lemon and ginger combo! When I'm getting sweet cravings, I take a swig of water too and it helps the cravings subside. *wink* I carry a bottle with me to work, preparing the chopped ingredients in the morning before I leave for the office. When at home, it's the water I drink as well – there's at least lemon and ginger on standby to make my water taste better. I've been drinking more water lately and I feel the difference. I feel good! Come try it too!
Do you flavour your water too? Let me know! I'd love to get more ideas so I can hydrate better.