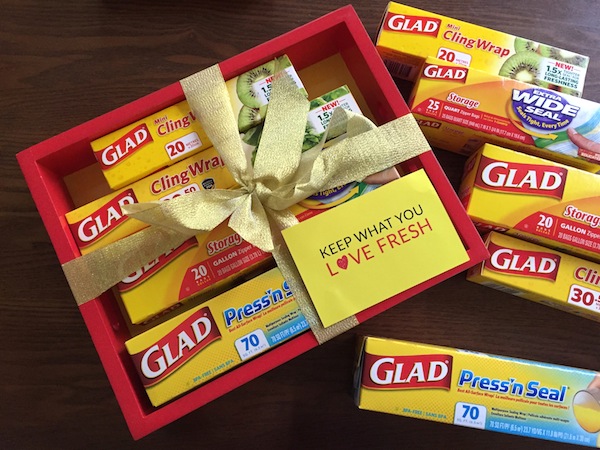 There are a couple of brands I'm loyal to, and one of them is GLAD. So when I was approached to try out some of their products, I gave a super happy "YES!"  Thanks to GLAD for these great products I have. I'm already a user of the brand so the products were a perfect fit for us.
We use Glad ClingWrap when we've got leftovers at home. That's great because Glad is a line of food protection products committed to helping Moms keep food fresh longer. Glad's ClingWrap comes in especially handy when we don't have covers for some bowls. Like this salted egg in a container with a lost cover:
Another of my faves are the Glad Storage Zipper bags. I use them to store sandwiches for work, a couple of crackers and some sliced fruit… The zipper bags keep the food fresh. But I also use the bags for something else — storing my little boy's things, like his crayons.
Our little boy had several boxes of crayons, and they were getting quite worn down. So I just put them all together in one zipper bag. Ta-da! Organized crayon chaos. We can take them from room to room without a mess.
There is one Glad product I didn't use before I got the products from Glad — Press 'N Seal. I tried it and think it's absolutely awesome. It comes in handy for drinks stored in the refrigerator, like this mug of coffee.
I chill it for a bit in the ref sometimes, so Glad Press 'N Seal can help lock the liquid in. Simply put a sheet of the Press 'N Seal over the mouth of the mug, press tightly around the edges and ta-da! You avoid spills. Check this out:
Glad ClingWrap: #savegoodfoodfromgoingbad
Glad ClingWrap is available in these sizes and suggested prices: Glad® ClingWrap Catering Wrap 33cmx300m for P594, Glad ClingWrap 30cmx30.5m for Php 89.40, Glad ClingWrap refill 30cmx20m for Php 53.60, and the Glad ClingWrap mini 20cmx20m for Php 55.
Glad ClingWrap is available at major supermarkets nationwide at SM Supermarket, SM Hypermarket, Shopwise, Rustans, South Supermarket, Robinsons Supermarket, Waltermart, Landmark Supermarket, Cash & Carry, Unimart, Makati Supermarket, Hi-Top Supermarket, Cherry Supermarket, Puregold, Metro Gaisano, and Pioneer Center. It is also available at 7-11 outlets and self-service Mercury Drug stores.
Other food protection products under Glad® are Freezer and Storage Zipper Bags, Press 'N Seal and Gladware containers.
For more information, visit http://www.glad.com.ph, like Glad® on Facebook at http://www.facebook.com/gladkitchen, and follow @gladkitchen on Instagram.