Note: I first published my LEAP story journey in October 2014, right after I graduated. The story you'll see below is the same story I published then, but with an update in the very end. Spoiler alert? I loved the Trilogy so much I'm giving back as a volunteer Life Coach to the program! Story below too!
It's official. I'm a LEAP graduate! Words aren't enough to capture how happy I am, and how excited I am to move forward. Some of you have been asking me what LEAP is, since I refer to it quite often in my blog. As I've finally graduated, I can tell you about LEAP more wholeheartedly now!
My Personal Experience with the Trilogy
LEAP has been amazing for me. Everyone's LEAP journey is different. For me the gift of LEAP was gentle power. But before I tell you about that, let me tell you about the first two workshops of the trilogy: FLEX (Foundations of Leadership Excellence) and ALC (Advance Leadership Course).
FLEX: Embracing Your Greatness
FLEX (Foundations of Leadership Excellence) is a 2-day workshop that heightens your sense of self-awareness; you learn truths about yourself that are empowering, that are beautiful, that are GREAT! Sometimes we downplay our strengths to the point that we forget how great we are. FLEX helps pinpoint in you what is great about you. What I love about FLEX is that the journey is experiential and personal. So my takeaway from the program will definitely be different from yours.

My FLEX Group
ALC: I Surrender
Next would be ALC, which is about overcoming fears and coming face to face with truths about yourself you may be refusing to acknowledge. It's a very revealing and illuminating process. Through ALC I faced baggage I didn't even think I carried, but was apparently digging roots in to my life and holding me down. My gosh. After ALC I felt so free. I knew myself more and knew how I could make my relationships work better. So liberating.

My ALC Group
Some of my LEAP friends told me that during ALC time, I had a "Don't come near me" aura. But ALC helped me become more vulnerable and open. I was surprised at the improved quality of relationships I had simply by learning how to approach people warmly, and welcoming others with warmth too. It wasn't an easy experience, but it's led me to where I am now. My ALC/LEAP friends have shared that after ALC, I became more approachable. And then throughout LEAP, I became more loving.
LEAP: My Love Nurtures Greatness
LEAP is the final part of the trilogy. LEAP (Leadership Excellence Achievement Program) is an 8-week coaching program. It's like the practical application of FLEX and ALC. You'll be assigned a personal life coach who you'll touch base with regularly, as well as a support group. It's a beautiful process, and I am amazed at how my perspective on relationships, career and life in general has become lighter and more grounded because of LEAP. LEAP's gift to you will be different from the gift I received. It's a very personal journey.

My LEAP Council

My LEAP family: LEAP 61 Wholehearted
That was how gentle power was born for me. I discovered I could still be responsible and committed, but not controlling. I learned how to be more vulnerable. It was so difficult! But through the love of the coaches and my council, and my own surrendering, I was able to let go of being controlling and embrace being more loving. Gentle power.

Of all the pictures I have in LEAP, this portrait best captures how I've transformed.
LEAP helped me be more loving towards others, but most importantly, towards myself. LEAP helped chip away some of the rough edges I chose to hang on to, and what emerged was the gift of gentle, loving power.
Trilogy Opportunities for 2017
I highly encourage you to take the programs! When you commit to each part of the trilogy, when you trust the process and embrace each experience, you will get the best of benefits. Here are the schedules for the rest of the year. Drop me a line if you'd like to learn more about the programs. I'd love to have a chat with you!
LEAP 73: #BreakThroughNow 

More About The Programs
2017 My LEAP Journey Update
In December 2016, I decided to take another leap with LEAP. I committed to being a Life Coach for future LEAP students, particularly the students of LEAP 73. I've long wanted to give back to the OCCI community as LEAP has gifted me with so many breakthroughs – in life, love, career – even after the program. I was so honored when Head Coach Carla Manas invited me to be part of her coaching team. And so this coming July, I will be part of the Coaching Team of LEAP 73 Break Through!

This is my breakthrough story.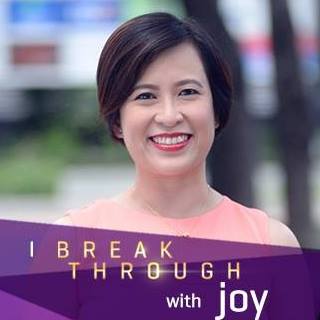 I break through with joy.
When I'm given a task, the incessant thinker in me immediately kicks in. "What's the problem?" "What's the best way to go about it?" "What's the plan?" While passion and commitment helped me get the job done, I would feel stressed and tired through the process. I knew I needed to do things differently. I needed to come from something light. LEAP reminded me I needed to come from joy.
Being joyful helped me approach every task with more heart. When I went back to the light within me, tasks didn't feel as heavy, processes didn't feel as daunting. My break through was not only finding joy in the journey, but BEING joy in the journey.
How about you, how will you break through?
To know more about the LEAP Trilogy, feel free to visit Facebook.com/Leap73BreakThrough
Open for Shares
Are you a FLEX, ALC or a LEAP graduate too? Come share your stories and insights in the comments section. I'd love to learn how the trilogy has changed your life! <3