Ready to take a leap this 2016? I recommend this series of programs that will nurture and empower you to embrace your greatness. The amazing experiences from the programs have filled my life with so much love and so much power — a gentle kind of power.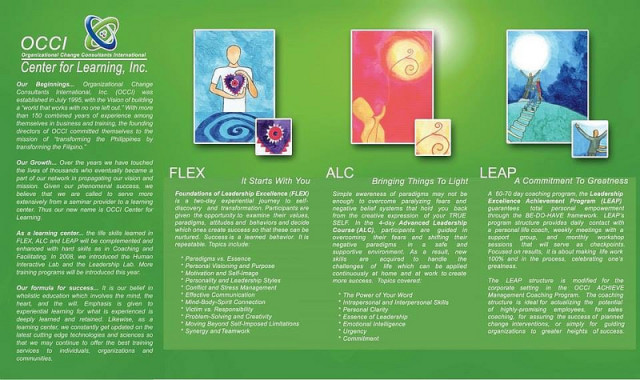 I've written about my experience with the programs. Here are the links to learning more about FLEX, ALC and LEAP:
Powerful Programs to Live an Inspired, Excellent Life: FLEX and ALC: How OCCI's programs – FLEX (Foundations of Leadership Excellence) and ALC (Advanced Leadership Course) – help me live an inspired, excellent life.
My LEAP Trilogy Experience: Love and Greatness: My experience with the OCCI Leadership Trilogy: FLEX, ALC and LEAP.
Here's a shot of my LEAP batch. I am from LEAP 61 Wholehearted!
2016 Schedules for FLEX, ALC, LEAP
Here are the 2016 schedules for FLEX, ALC and LEAP.
If you'd like to learn more about the programs, drop me a line. I'd love to tell you more about my FLEX, ALC and LEAP experiences! It's really wonderful when I connect with folks through email and my blog about these programs. I've had several queries through the blog and I am more than happy to connect you with the folks at OCCI! I can also put you in touch with my friends who are coaching the programs.
Embrace your greatness!