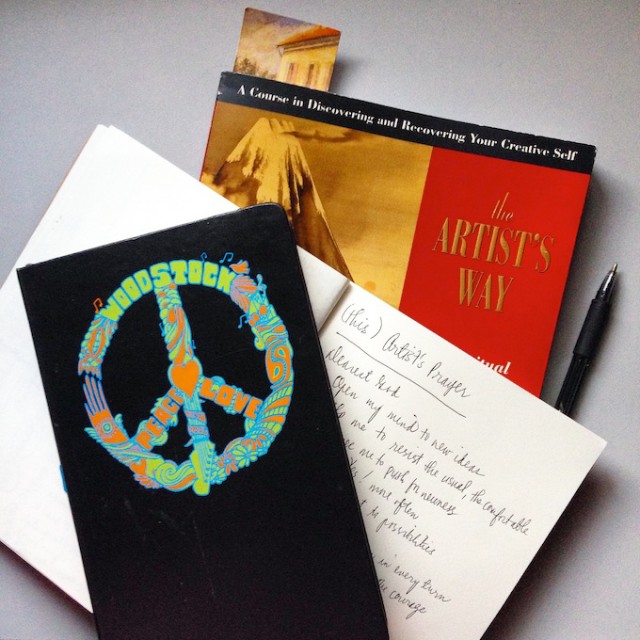 The Artist's Way Book, My Artist's Prayer and My Morning Pages Journal
The Artist's Way is a book by Julia Cameron, and it's also a course in discovering and rediscovering your creative self. The book shares that creativity is linked to spirituality. You will learn more about this as you go through a comprehensive twelve-week program to unblock your creativity. There are several of these creative blocks. Some of them are fear, jealousy, addictions. Through the course, with openness and trust, you will slowly replace them with artistic courage and confidence.
I am currently on Week 7 of the course. It's been such a roller coaster journey of embracing, resisting, embracing, resisting. Nonetheless, it's been a beautiful process. What I'm learning so far is that the more I surrender to the creative yearning within me, the more at peace I feel after.
One of the biggest surprises I have gotten from the journey is rediscovering my love for cooking. I've been cooking more and more, and trusting my instincts more and more as well. The dishes I prepare turn out to be more delicious than I've ever done before, and I attribute this to trusting my inner artist.
I still have 5 weeks to go and still have a lot to learn for sure. I still have several creative blocks and am looking forward to going through more unblocking exercises.
Another activity which I resisted at first but then later embraced was writing my Artist's Prayer. You can use the one provided in the book, written by the author herself, but you can also write your own. So I did. It took me several weeks to write my own Artist's Prayer. One morning, the inspiration just came to me. I grabbed my pen and paper and the words started flowing. Out came a prayer I resonated with, written genuinely from my heart. I'm sharing it with you.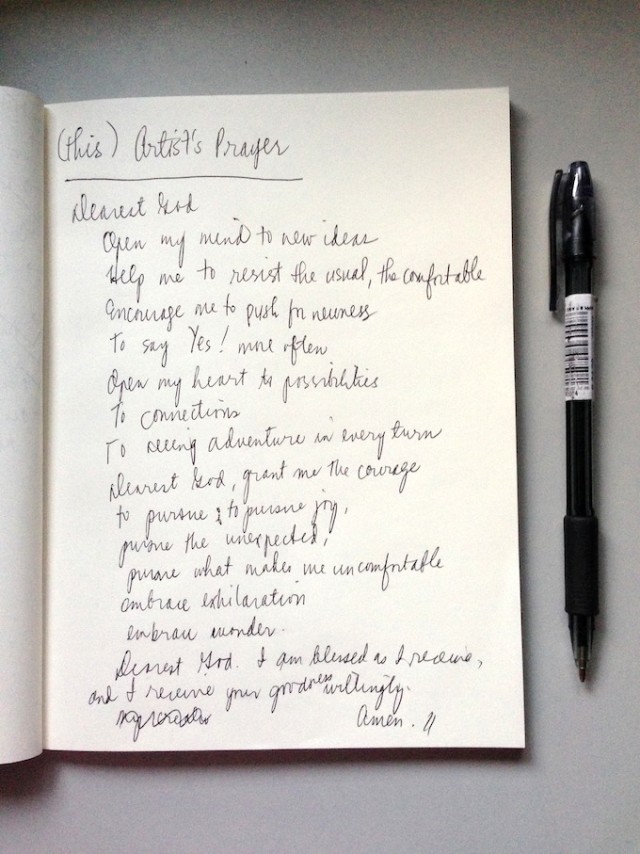 My Artist's Prayer
My Artist's Prayer
Dearest God

Open my mind to new ideas

Help me to resist the usual, the comfortable

Encourage me to push for newness

To say Yes! more often

Open my heart to possibilities

To connections

To seeing adventure in every turn

Dearest God, grant me the courage

to pursue: to pursue joy,

pursue the unexpected,

pursue what makes me uncomfortable

embrace exhilaration

embrace wonder.

Dearest God, I am blessed as I receive,

and I receive your goodness willingly.

Amen.
The Artist's Way is a beautiful book for inspiring creativity. I highly encourage you to read it! Have you gone through a similar creativity program before? Have you tried The Artist's Way yourself? Come share!