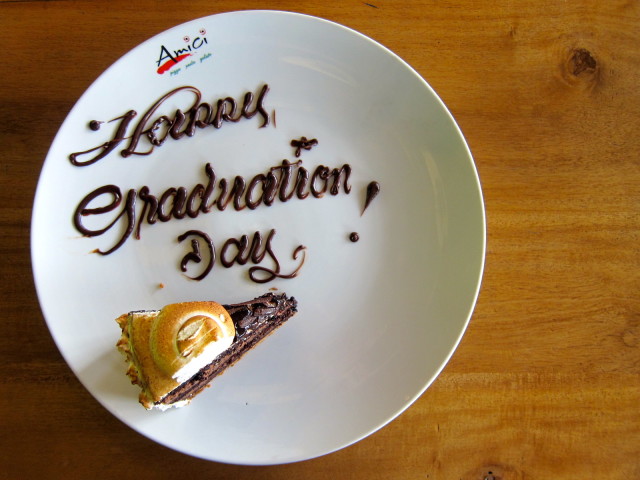 AMICI is one of my favorite restaurants. I have fond memories of going to the Don Bosco branch when I was still working in Makati. My friends and I would order their famous Roast Chicken, Vongole Pasta and cap our meal off with delicious gelato. I've blogged about Amici several times too. (Read about our very first visit to Amici way back in 2006 and the gelato that stopped time in 2008). After Timmy's Nursery graduation last year, we ate at Amici as well. To celebrate his Moving Up this year, we decided to celebrate at Amici again. This is going to be a family tradition!
Eating at Amici
To kick off our meal, we ordered Calamari Fritti. These fried squid rings are delicious dipped in its partner Arrabiatta sauce.
We need our greens! For our party of 6, we ordered the grande portion of Amici's Blue Cheese and Pear Salad. This salad has arugula, mixed greens, blue cheese, pear slices and honey vinaigrette dressing. The blue cheese wasn't overpowering at all. It was a yummy blend of tartness and sweetness, complemented perfectly by the freshness of the greens.
Can I marry a pizza? If I could, I would marry this Artichoke and Portobello Flatbread Pizza. It was so friggin' good. This pizza has artichoke hearts, Portobello mushrooms, capers and mixed bell peppers. The flatbread is a thinly baked pizza crust that made for a crispy bite. I liked the hint of sweetness in the dough. I could eat this all day!
We love chorizo. We love spinach. So it made sense to order their Chorizo e Spinaci Pizza. This pizza had gourmet Spanish chorizo and spinach in white sauce.
There was a craving for creamy pasta 'round the table, so we ordered this Creamy Penne Pasta with Pesto and Prosciutto. I'm totally making that name up because I forgot what this dish is called. But this dish by any other name would just be as sweet. It's so yummy. I'm not a fan of cream-based pastas, but the creaminess of this one was just right. The prosciutto was served crispy, so it was just like having bacon on our pasta too.
Our boy always opts for spaghetti, so we ordered Italian Spaghetti with Meatballs. The sauce isn't sweet or too sour. Another winning dish! It delighted our little one and the adults 'round the table as well.
Amici's Seafood Chowder Risotto is perfect for anyone craving a creamy taste and rice at the same time. This risotto has the yummy flavors of seafood chowder, saffron, and is served with a fried outer layer. The mussels and clams were delicious too! So sweet and fresh.
For dessert, we ordered brewed coffee and dishes to satisfy our sweet tooth. We shared a piece of Sans Rival, a Filipino dessert made of buttercream, meringue and chopped cashews. I found this a little too sweet for my taste!
This Caramel Cake was just okay. We wanted to see if it would beat the caramel cake from Estrelle's. Nope. Estrelle's still serves the best caramel cakes. If you're going to order something sweet after an Amici meal, I suggest you order a different cake instead.
A trip to Amici isn't complete without an order of their delicious Cara Mia gelato. This one is their Chocolate Sans Rival gelato. Drooling yet? It's good!
Because it's Graduation season, Amici gives graduates a free slice of cake as their graduation gift. How generous! Timmy got a S'mores cake which was so yummy. I liked it because it was very chocolatey but not too sweet. It was perfect with my cup of brewed coffee!
The last time we were at Amici was also during Timmy's Moving Up last year. Haha! I hope we don't wait that long again because I'm still dreaming of their Artichoke and Portobello Flatbread Pizza. That was love in a pizza right there.
To know more about Amici's food, party packages and branches, check out http://amici.ph/ and their Facebook page.
Do you like Italian food? Check out Amici! If you've eaten there, what other dishes do you recommend? Come share!