crabby (krăb'ē) adj. grouchy, ill-tempered
That's the typical definition of the word. But it could also be said this way:
crabby (krăb'ē) adj. meaty, juicy, delicious and savory seafood
It takes a very different meaning when you push your sleeves up your arm, put on a giant orange bib and bite into succulent crabmeat with roasted garlic and olive oil. Gah. Talk about crab heaven. H & I were at Clawdaddy.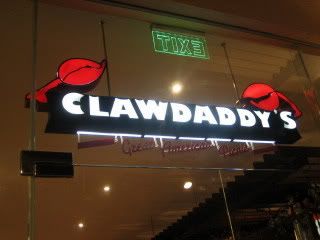 My mother-in-law was raving about this restaurant one weekend, and she pushed H & I to give it a try. "Their crabs are REALLY big," she said then emphasized this point by putting her hands up about a foot apart. Hmmm. Well, that triggered our curiosity so off we went!
H & I went to the branch at Bonifacio High Street. The staff was very friendly the moment we stepped in. Our server was a lovely lady named Jane. We told her it was our first time at the restaurant, and any recommendations would be great! She willingly answered our questions and always had a great smile on her face.
Okay, first up was the corn on the cob. It was sweet and just enough to whet our appetites. They were on the house too.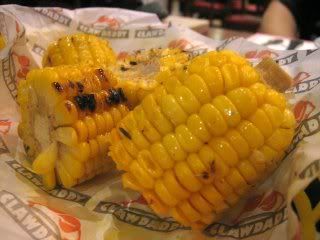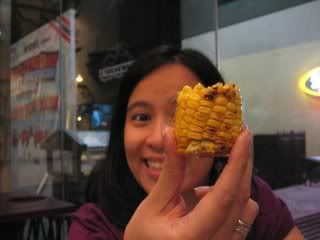 Then we were given big orange bibs to wear. Good thinking! You'll never know where that claw will end up. The bib says "Who's your Clawdaddy?" Heehee. Jane helpfully tied the bows for us. After our meal, she also helped untie the bows as our fingers were still hungover with crabmeat and some olive oil.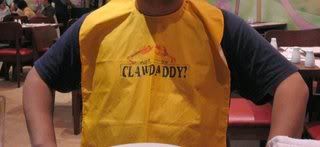 And boy, oh, boy. The highlight of my Clawdaddy visit was this appetizer: Jalapeño Poppers. Their menu described it as "Panko-crusted and pickled jalapeño with Monterey Jack cheese, served with ClawDaddy's barbecue ranch dip." In one word: "Yummy."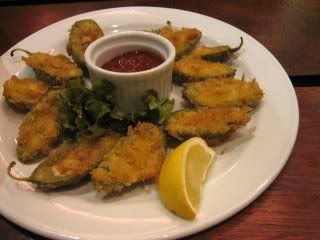 I told H, if I were to marry a dish, I'd marry these Jalapeño Poppers. 😀 And I ate most of them, truth be told.
We also ordered a half-slab of ClawDaddy's Smoked Baby Back Ribs with side dishes Mashed Sweet Potato and Broccoli. Delicious too! I liked how sweet and flavorful the meat was. The downside is there wasn't much meat on our ribs. But doesn't it look good?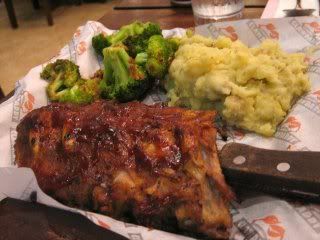 Then a stone came. "What's it for?," I asked Jane. It's for cracking those tough crab claws open. Aaaah! I see. I was expecting a little contraption that looked like a nutcracker, but I suppose if you're using your hands to eat, the gadget could slip through your hands. The primitive way of bonking till the shell splits will do too!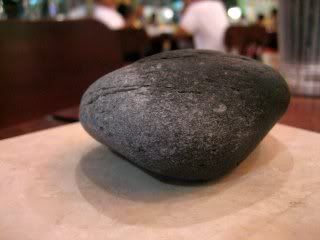 And then came the crab. Mommy, it wasn't a foot big. But it was every bit as delicious as you described! Jane recommended the Crab Maritess, crab sautéed in olive oil, white wine, and chilies.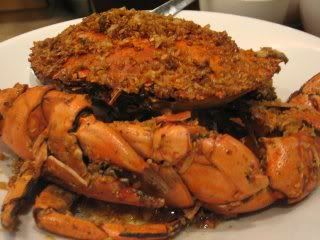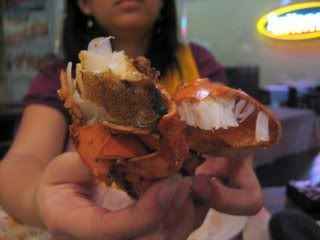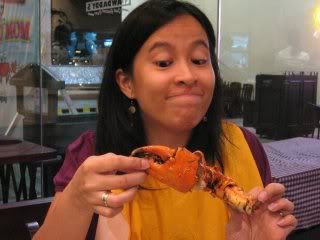 Obviously, I enjoyed it very much.
Each table has a bucket in the middle of the table. Here you can throw in your crab shells and ribs. Pretty neat!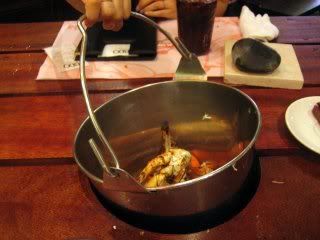 Overall, we had a great experience. We loved our server Jane, and hopefully she'll be our server again when we go back. I'm looking forward to trying the other dishes. The funny thing is the dish I loved the most didn't have claws. I'm definitely going back for another round of those Jalapeño Poppers!
😀
Check out the Clawdaddy site here.