How can your day go wrong if you start it this way? French toast with sausages, Nutella and grape jelly on the side. Ooh la la.
This is a great morning booster!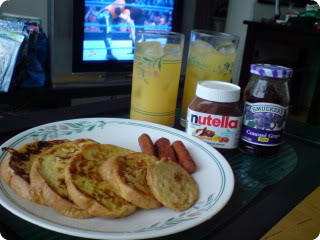 French toast is super easy to prepare. Beat 2 eggs in a bowl. Whisk in 1/2 cup of milk. Stir in a teaspoon of sugar. Stir well. Dip a bread slice in the mixture, making sure it's fully coated. In a heated pan, melt a small amount of butter and slide your bread in. Fry on both sides till golden. Repeat.
You can also mix in several drops of vanilla in the egg mix, or stir in cinnamon. They will both give your French toast wonderful flavor too. Or you can do without the sugar in the mixture and sprinkle your French toast with powdered sugar instead.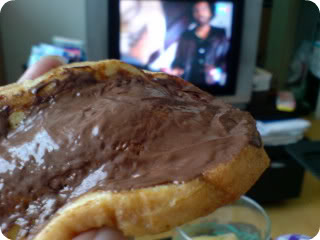 Bacon is still my favorite French toast partner, but I was in the mood for sausages that day. Grape jelly is a second favorite of mine, followed by Nutella.
You can use any type of bread. I usually use whole wheat slices but have recently found my favorite bread to make French toast with — multi-grain bread from Bizu. It makes for purrfect French toast. H doesn't eat French toast, but he ate some slices heartily this breakfast. I think it was the bread that did it, as it was just the right kind of plump and toasty.
How do you enjoy your French toast?