Baguio Pechay is one of my favorite vegetables. I was at the grocery Saturday morning when I came upon a beautiful display of Baguio Pechay (also called Pechay Lombok, Wom Bok, or Chinese Cabbage). I like Baguio Pechay because it has a mild, delicate taste. It's been quite a while since I've cooked with Baguio Pechay, so I was super excited to cook it for dinner.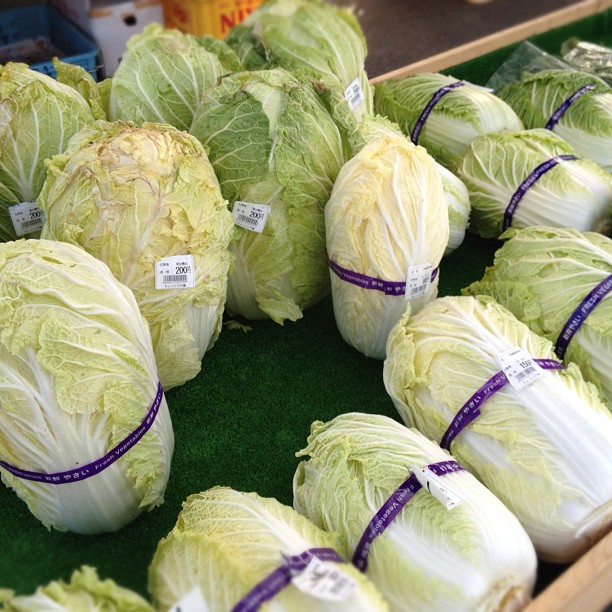 Baguio Pechay has light green leaves and a white stalk. I find that it tastes milder than Bok Choy (Pechay Tagalog). Pechay Tagalog has smooth, dark green leaves that look like mustard leaves. (Photo Credit: eiko_eiko via Compfight cc)
But what do I cook it with? While waiting for my sister to finish her own shopping, I sat at the supermarket deli and doodled away on my grocery list. I couldn't get the Baguio Pechay out of my head.
Recipe Geek. Mind-mapping Pechay Lombok.
I was craving for a seafood taste to go with the Baguio Pechay. At first I was thinking shrimp. Yum. Then I remembered the squid balls I had come across by the freezers. Fish cake also came to mind. But there was something about squid balls and Baguio Pechay that just sounded right. Squid balls it was! I headed back to the freezer section and grabbed a bag of squid balls. Here's the recipe.
Baguio Pechay with Squid Balls
Ingredients:
1 head of Baguio Pechay (also called Chinese Cabbage or Pechay Lombok), sliced into strips
3/4 cup squid balls, quartered
1 onion, chopped
2 cloves garlic, minced
3 tablespoons patis (fish sauce)
3 tablespoons oil
Salt & Pepper to taste
Procedure:
Pour oil in a heated pan. Slide in squid balls and stir for 2-3 minutes.
Slide in the onions and cook till transparent. Stir in the garlic until almost golden.
Stir in the pechay. Cook for 3-5 minutes. Cover the pan so the steam helps it cook faster.
Pour in the fish sauce. Season to taste.
Bonus: It doesn't take more than 15 minutes to prep and cook — perfect for the busy bees! Most importantly though, it's delicious. This dish was a hit at home! My husband enjoyed it a lot – he had 3 servings. "Sarap nito, Wifey (This is delicious, Wifey)," he said. He's quite picky with what he eats so that was a big win for me. After his meal, my Dad said he liked it too. "Masarap. Masarap 'to." (Delicious. This is delicious.) Yey! Major wins with the boys.
What makes this dish work is the delicate flavor of the Baguio Pechay and the sweet, meaty taste of the squid balls. Simple home-cooked dishes are the best!