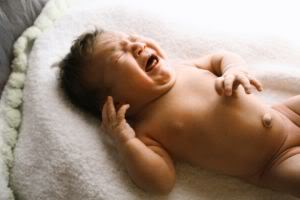 "Huwag mong buhatin! Baka masanay!"
(
"Don't carry him! He might get used to it!"
)
I've gotten my share of old school vs. modern takes on how to care for a newborn. One of the more interesting topics was responding to a newborn's cries. Do you let him cry till he quiets down? Or do you carry him in your arms immediately?
I personally believe that you can't spoil a newborn. When my baby cries, I try to understand what's causing his whimpering. It's usually resolved by some gentle patting on his butt, by satisfying his hunger or by cradling him in my arms. I've never left him to cry till he screams his head off or runs out of tears. I don't think I have the heart to just let him and his cries be.

He's a baby, an infant at that. True, babies are smart. But I don't think newborns have that manipulative streak that older babies may possess. Right now, perhaps all a newborn wants is the comfort of loving arms and a kiss or two.
A baby can't have too much of skin-to-skin contact. That's what I believe anyway. When he cries, I'll be there to hold him in my arms and calm him down. I don't think you can spoil a newborn with too much hugs, kisses and cradling. Baka masanay? Let him get used to my love, then. For as long as I can calm him down with my embraces, I will do it. I'll re-think this when he gets older. But for now, I believe you can't spoil a crying newborn with many warm embraces.
What's your take on this? Would love to hear your thoughts.
Image by: jynmeyer