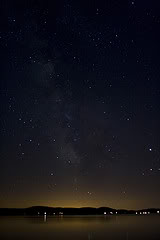 *Baby cries*
What's the rule again? Start feeding with the breast the baby fed on last? Uggh, I can't remember which one I fed him from. Which one looks less full…
Edward Cullen. He'd make a perfect nanny. He doesn't sleep. All he has to do is wake me up when the baby cries and change the baby's diaper so I can get extra sleep. Burp the baby too. Just have to make sure he's hunted enough before babysitting duties.
Crap. I forgot to ask for a doctor's certificate and my hospital records for my SSS reimbursement. When the heck will I have time to go back to the hospital for that? Ugggh.
Baby's fallen asleep on the breast. Maybe he's done? Oh wait, he was just resting.
I wonder when I can fit into my jeans again.
This is the most disorganized I've ever felt. I feel I have no control over anything! If I ever succumb to post-partum depression, this will most likely be the cause. Lack of control.
He smiled! My baby smiled! Sure it can be a gassy smile but it was a smile nonetheless. Aww, baby. Who cares if the room's a mess? Who cares if I still have a bunch of files to organize? They can wait. Just keep on smiling for me.
He's done. Time to burp.
He farted instead of burping. That counts, right?
He's asleeeeeeeeeeeeeeeeeep. Hurrah, hurrah. I can finally get some sleep.
…
*Baby cries*
Oh man, what time is it?
4 am?! I was only asleep for 30 minutes?
What's the rule again? Start feeding with the breast the baby fed on last? Uggh, I can't remember which one I fed him from. Which one looks less full…
Image credit: static416