There's a lot you can learn from kids. This weekend, all I wanted to do was hole up at home, stay on the couch and veg out. It was a long, tiring week and I just wanted to zone out. My 6-year-old son had other plans though, and he made sure I was with him for the ride. Here are just a few life lessons I got from my little one this weekend.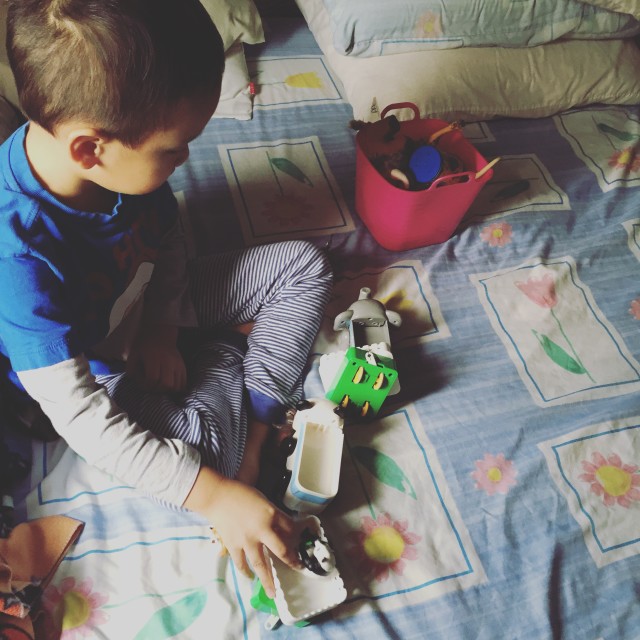 Lesson #1: Upon waking up, it's okay to spend a little more time in bed even if you're not sleepy anymore.
"I want to play," Timmy said as he stretched his arms and legs. "Okay," I said. "Let's go downstairs." "No, Mommy," he said. "I want to play here." He got his toys and played on the bed. After 20 minutes of play, he looked at me and declared, "Mommy, I'm hungry." Then we got out of bed and went downstairs.
He wasn't ready to start the day yet, so needed to segue slowly. I, on the other hand, was very eager to get out of the room and veg out on the couch. Haha. His was a slow, steady transition into that beautiful Sunday.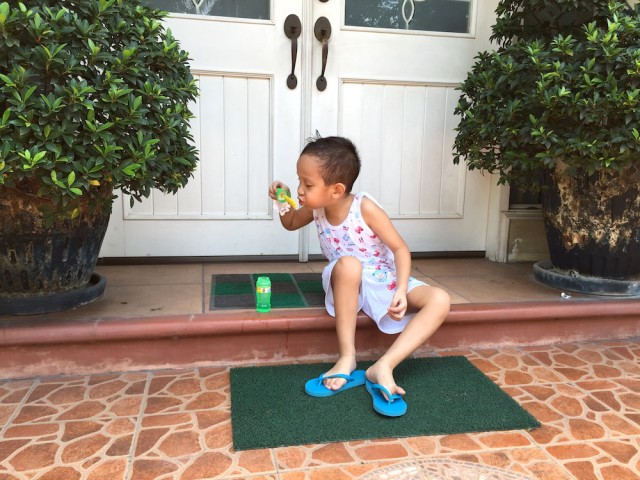 Lesson #2: There's always time for blowing bubbles.
"Mommy, I want to play bubbles!," he said excitedly as he grabbed his bottle of bubble soap. I groaned and got up from my comfortable seat, "But it's so hot outside!!!" "Mommy, let's go!," he insisted. So out to the porch we went where he played and giggled. It was just too cute and later on I found myself enjoying the afternoon Sunday sun as well.
I began blowing bubbles too, after he handed me the wand. "Mommy, make grapes again!," he giggled, after seeing a cluster of bubbles float through the air. Because Mommy is a magician, he did get his grapes.
Ah, such joy. Later on he said, "Now make an apple!"
Eek! I just said, "Okay I'll try!" Who knows? Maybe a bubble of an apple might appear!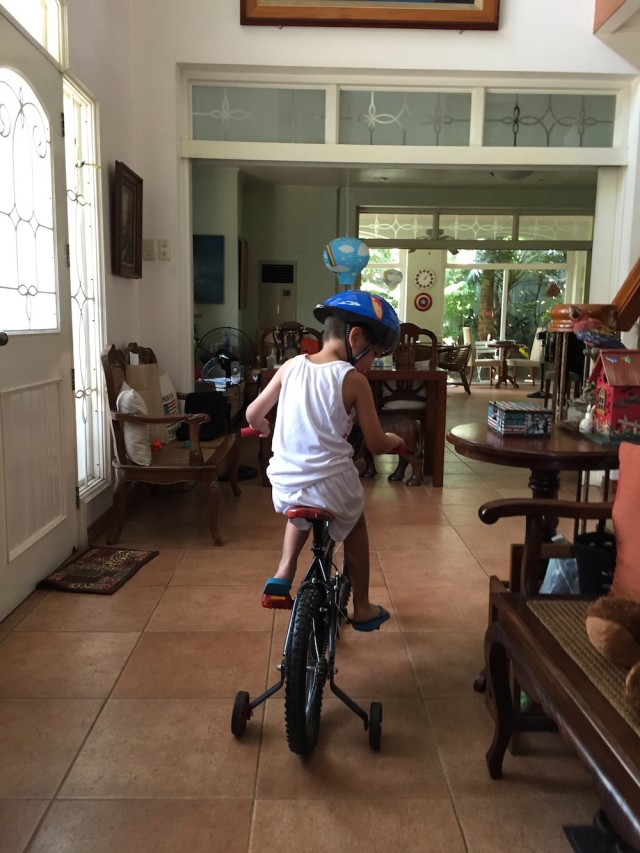 Lesson #3: Explore the great indoors.
Without making too much of a mess of course! "Mommy, can you teach me how to ride a bike?," he asked. Since it was TOO hot outside, we couldn't take his bike out. So on went his helmet and we biked around the house. He learned how to make turns in tight corners, avoid his grandmother's baby grand. I saw the house from a different perspective. It's not everyday you get to ride your little bike inside the house (nor should it be a regular thing), but at least we got to experience it once. And we had fun!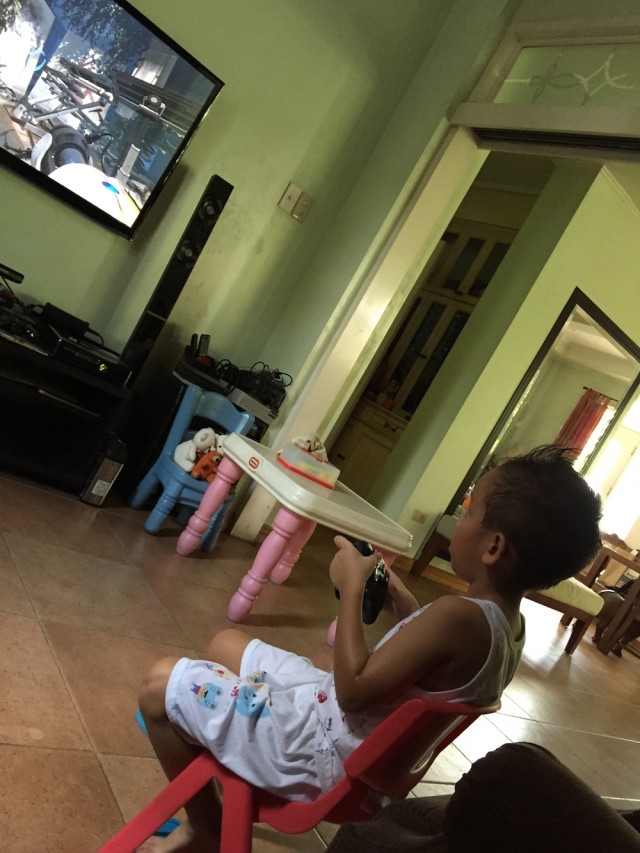 Lesson #4: It's okay to catch your breath with a video game, but don't take too long!
After biking around the house and running outside playing bubbles, we were both a little out of breath. "Can we play Portal?," he asked. So on went the XBox and I finally got to veg out beside him on the couch. He played his video game for about 15 minutes before putting the controller to one side. Then he approached me.
"Mommy, can we play Sports?," he asked. So much for zoning out! How could I say no? So on went Kinect Sports and we began playing Track & Field together, running in place and jumping over invisible hurdles, throwing imaginary javelins and racing against robot competitors.
He giggled all the time. After one round of track and field we were both out of breath. "I'm hungry!," he said, then ran to the kitchen. So off to the kitchen we went to snack on some bread and chocolate milk.
If not for my boy, I would have just been lying on the couch the whole day. Because of him, I had gotten some exercise and rediscovered the joy of blowing bubbles in the afternoon sun (something I haven't done since childhood!).
I should let my kid take the lead more when it comes to choosing activities for the weekend. It opens up so many possibilities for us and keeps both of us in touch with that childlike wonder.
Let the kids in your home lead the agenda one weekend! See where it takes you.
For sure it will be eye-opening and a lot of fun!