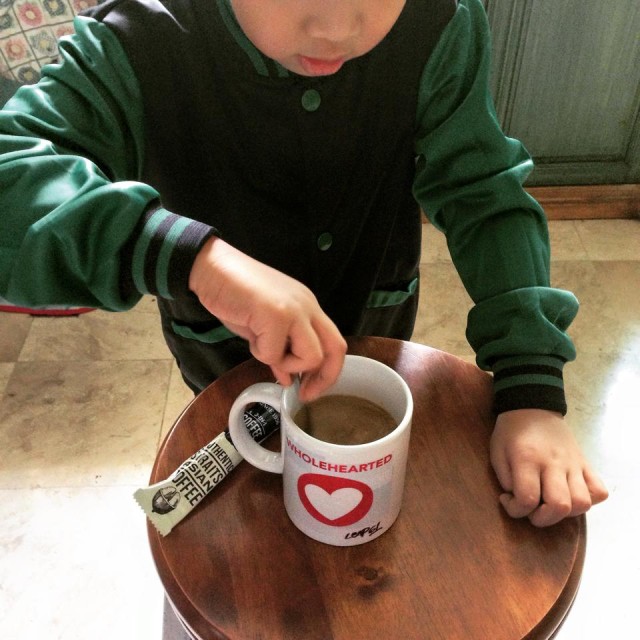 I worked from home a few weeks ago because my son was sick. That morning, while I was on my laptop, my 5-year-old suddenly sprang up from the couch and began running. "Where are you going?!," I asked, worried. "To the kitchen!," he replied. "I'm going to make Mommy coffee!"
And HE was the sick one! He surprises me with his compassion. Whenever I'd hurt myself by accident, like stub my toe or hit my hip on a chair, I'd go "OUCH!" He would automatically ask, "Are you okay? Mommy, are you okay?" He'd have this very concerned look on his face. Sometimes he'd reach for my arm and pat it gently, his own little way of assuring me that I'll be okay. And I am okay, always, especially with him there to check on me.
Raising a Compassionate Child
During my baby shower, my friends gave me notecards and letters with advice on how to raise kids. One of my favorite notes was from my college best friend, Erik. He wrote that you see a lot of wishes about having healthy, smart children. He said that in addition to that, he wished that we would raise a compassionate child. That stayed with me throughout all this years. You hear so many stories about child bullying, about kids getting spoiled and too self-centered. I prayed that my son would be blessed with compassion, and I see it today manifesting in so many ways.
I look at Timmy and wonder, "What have we been doing that made him so compassionate?" Several things come to mind on how to raise a compassionate child:
Being gentle. We learned this from his school. "Gentle hands, gentle feet." He still has bouts of anger when he would want to throw things or want to spank and kick. When this happens, we remind him "Gentle hands, gentle feet." It works most of the time.
Reinforcing respect. There are times when my son's behavior is so surprising that I can't help but laugh. Yesterday he told me for the first time ever that he wanted to run away (after being scolded for scattering toys he wasn't allowed to play with). I had to hold myself back from laughing out loud because I totally didn't expect it. But compassion means respecting others, so I lovingly but firmly talked to him about it. The situation was lovingly resolved within minutes.
Saying sorry. When I'm upset with him and get short-tempered with him, I apologize. I'm not afraid to show him that I make mistakes too. This way he sees that even grown-ups admit when they've done something wrong and say sorry.
Talking about feelings. "I feel sad when you tell me you want to spank me," I tell him, during moments when he's mad at me and declares he wants to spank me. Talking about feelings helps him be more aware of how his actions affect others. I ask him about how he feels too whenever he's about to throw a tantrum. "I am angry!," he will answer. "What's making you angry?," I ask. Then he'd give me the reasons why, for example, wanting to play the iPad already when it wasn't time yet. Then we begin talking about that gently again. "I understand you're angry, but it's not time for iPad yet. We said you could play after eating lunch, right?"

It usually works on the positive side too. Sometimes he'd declare his feelings on his own, "Mommy! I'm so excited!" Then he'd say why — "Because I'm going to Toys R Us!" or "Because I'm going to play with [insert playmate's name here]!". I love it when he does this. I love it when he'd suddenly declare, "I'm so happy!" It's wonderful to hear.

Recognizing compassion. When he does something compassionate toward someone else (offering to make my Mom coffee, sharing his food with someone else), we call it out. It's a nice gesture, so he becomes even more aware of his compassionate acts.
This is what's been working for us. Raising a compassionate child can begin as early as the toddler years, and this is the product for us so far! Timmy's a wonderful little boy, and I am amazed by how giving and loving he is. I pray that he carries this with him as he grows up. My heart fills with joy as I think about the loving, compassionate man he'll grow into! Right now, my heart is filled with the loving, compassionate boy he is!