My son turned 6 today. The first words he said upon waking up were, "It's my birthday today!"
He went down the stairs with "Happy Birthday" playing in the background, the musical score led by his Grandma on the piano. He walked through the blue and green streamers framing the living room entrance, and went straight to the coffee table where he "caught" his toys writing him a birthday message. Then he blew out his candles.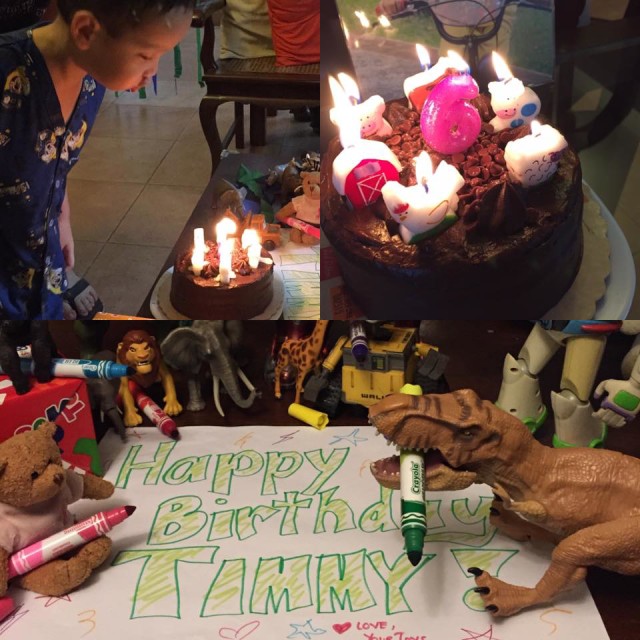 My son turned 6 today. 6 is the number of years my husband and I waited and struggled to have a child. 6 is the age of our son now, setting a half-and-half mark. 6 years of yearning for a child, 6 years of raising the child most yearned for. This is why he is so precious.
And today, it was his day all the way (as most days are).
When bedtime came, my son and I pulled up the covers and lay side-by-side in bed. The yellow glow of the lamp made his little boy features baby-like, and I smiled at the thought of how he was growing up so fast.
We were quiet as our eyes became heavier. He was fighting sleepiness, wanting to prolong his day. But his yawns were becoming frequent, and he settled his cheek on the pillow. Then he looked at me.
"I'm not five anymore," he said.
"No, you're not five anymore," I repeated, not really knowing how to respond. "Soon you'll be big and tall like Daddy too."
He paused, then blinked a few times. "Okay," he said, was all he said, and closed his eyes. Then he slept.
My son turned 6 today. And no, he is not five anymore, as he reminded me before drifting off to sleep. He is a little boy who rewarded himself this morning by opening a Lego pack marked "6 years and up" stored in a cabinet many months ago. He is a boy of growing independence, just as he approached the bookstore clerk today on his own saying "Good afternoon! Do you have the Ali Baba book?" He's the compassionate boy with the big heart, asking me everyday I was sick this week, "Are you better, Mommy? Can you be better on my birthday?"
"Mommy, I like Lexie," he said when we were getting settled in bed.
"Why do you like her?," I asked.
"Because she's pretty," he answered. I pondered about teaching him that there's more to liking someone than looks, but thought against it. It wasn't the time.
"Have you told her you liked her?," I asked.
He thought about it. "I ask her, Lexie, can you come inside my house? I show you my toys," he said, sharing his plan with me.
I smiled at the little boy growing right before my eyes. "Okay why don't you ask her that on Monday?" He was quiet, and then he yawned. This was a conversation to be continued another day.
He's sleeping soundly now, in his firetruck shirt and striped pajamas, an Incredible Hulk plushie on his side. He's surrounded by a nest of pillows, carefully arranged by him and him alone. He's in his safe little cove. His long limbs weave through the fluffy pillows. He is young and old at the same time, a baby and a child.
My son turned 6 today. And no, he is not five anymore.
(But he will forever be my boy.)