Hello there neighbor! You've been whisked to wifelysteps.com! 😉
Where's your header? Did you kill your goldfish?
Why silly you, of course not! I'm just cleaning the fish bowl and refilling my mug of tea. Don't panic, this is the same Wifely Steps. The theme will be up soon. I know you won't mind if we use a little generic theme for a little bit.
Are you still Toni?
Yes, it's still me. Let me prove it!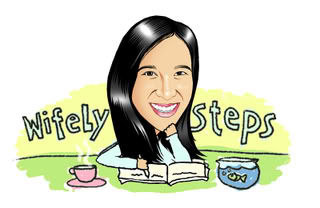 See? Hehe. Thanks to my officemate for this caricature. This won't be my new header, but I wanted to share with you a little present my officemates did for me.
Why did you move?
Think of someone who just moved out of her parents' house to experience independence. There you go. Ta-da! With the help of my Marikit sisters, I've moved into my own home. Whoops, watch out for that cracked floor. I'm not yet done with the renovations. And wait, don't sit on that chair! As with most of my furniture here, it's still kind of wobbly.
What will happen to your old address?
When you type in my old Marikit address, you'll be automatically redirected to wifelysteps.com. But I hope you don't mind if I ask you to change your Wifely Steps links to this new address.
When will the housewarming be?
As soon as I've set up my theme and get my contest together. Oh yeah. We've got a contest coming up. Prepare those thinking caps!
Can I get you anything for the housewarming?
How thoughtful of you! Your presence is more than enough.
Will we be expecting anything new from WifelySteps.com?
It'll be the same homey blog with the cute header, entries on home & living, Twilight updates and words on positivity. It's the same blog only with a new address.
So where's your fish in the meantime?
He's taking a vacation with the rest of his goldfish family. Lucky fish!
Stay tuned fellas. 😀 Thanks for the patience!