Parenting tips from Charles Dickens, why not?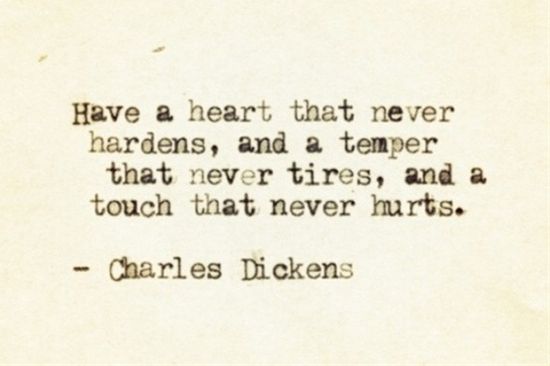 A quote any parent can relate to.
What's a parenting tip that touched your heart?
The above quote from Charles Dickens resonated with me. When you're dealing with a little boy who's so full of energy and beginning to assert his independence, your patience can be tried many, many times. I'm pretty much relaxed as a parent, but lately I've been putting my foot down more and more.
I've always known that being firm is a big part of parenting. I just didn't expect it would be so difficult.
When my son misbehaves, we go to a Time Out room. It's usually the bathroom where I give him a firm talk on what he did and didn't do respectfully. Sometimes I think he doesn't understand what he's still doing because he's a child, but more and more I see that he's become aware of his actions. He's just testing his (or my) limits. All a part of growing up.
Time-out session in the bathroom because he shouted at me
Me: Do you know why we're having a time-out?
Timmy: Yesh.
Me: Why are we here?
Timmy: (sadly) Shout.
What incident that was, I can't even recall. Maybe he shouted at me because he didn't get what he wanted. What I do remember is that quiet talk we had in the bathroom, and how I realized that he does know what he's doing.
The onus is on the parents though, I realize again, to handle this with grace.
It's so easy to scream and shout back, to scold the child until he's scared silly. You fool yourself though that he won't do it again — because he will, in one form or another!
So far, taking a deep breath, counting to ten and saying a prayer have been working for me. I have raised my voice, especially in the most trying of times. I'm not perfect. I feel bad when I do it. I'm trying not to shout though. But I do have a heart that doesn't harden, a temper that (almost) doesn't tire, a touch that doesn't hurt. It's just taking me longer and longer to count to ten till my temper tempers down. But patience always pays off.
So my parenting tip, inspired by the above quote, is this:
Parent with grace.
I tell my son when he's being rowdy: "Gentle hands please!" or "Gentle voice!" I tell myself the same things when I'm being tested. Gentle hands, Mommy. Gentle voice, Mommy. Grace, Mommy, grace.
It's tough, really tough, but I wouldn't trade parenting for any other responsibility in the world.
What are your parenting tips? When were times you felt you were being tested? Come share and let's talk about it. You're not alone!
Photo credit: Postris