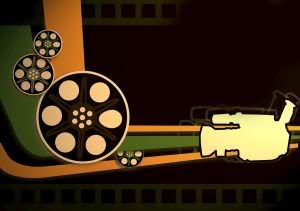 The rules are easy. I will ask a question. The first person who comments will answer my question, and will leave a question for the next person to answer. This next person will answer that question, and leave a question for the next next person to answer. I am sure you get it! 😉
To make things more fun, the questions have to reflect the chosen theme. For example, if the theme is "WEDDINGS," all questions should be relate to anything wedding-y. Would you rather get married underwater or on top of Mt. Everest? Is there anyone you wished interrupted your wedding, The Graduate style? As much as possible, let's not repeat the questions for added fun! You are also welcome to play more than once!
Let's bring out the popcorn for our tenth weekend soiree!
The theme: MOVIES
My question for Person #1: What was the very first movie you watched in a theater?
Image [via]