Pancake hearts. A heart drawn in sand. The shadow of two grapes. Craft hearts. Chocolate hearts. Hearts on stockings. Hearts on walls. Wedding hearts. Engagement hearts. Love letter hearts. And much more.
Thanks to everyone who contributed to the I HEART YOU! A Show of Hearts Blog Carnival. February being the month of Valentine's, there expectedly were a lot of sweet images of hearts on display and candy hearts. Another sweet thing is that a lot of the hearts shown were independent of Valentine's Day celebrations. Hearts are all around us even if it's not during the month of February as you'll see in the beautiful images shared by our wonderful blog carnival participants.
There's one week left in this month of hearts. Got anything heart-related planned? Whether you have plans or not, I hope this show of hearts gives you that warm fuzzy feeling and puts a smile on your face today. Each image in the mosaic will take you to a participant's link, where you'll get to see their heart image(s) up close. So do click on each heart and feel the love! Enjoy the show!
♥ ♥ ♥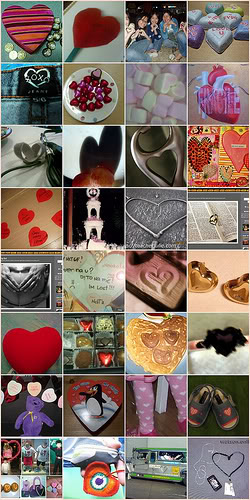 ♥ ♥ ♥