Happy new year! There were a whole bunch of quotes and essays (in the form of Facebook status updates… or were they Facebook status updates in the form of essays?) flying around the past few days, but this one from TCM (Turner Classic Movies) was the one that really caught my heart.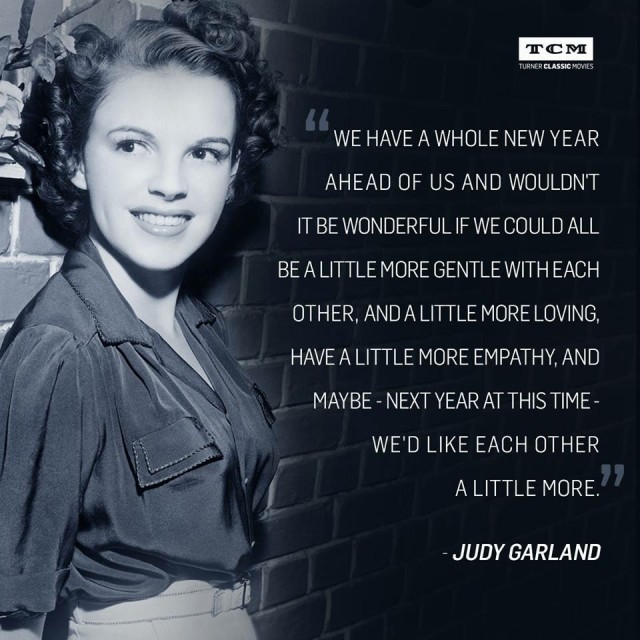 This is the wish I have for you too — a 2016 that's gentler, kinder and more loving. We both know that that won't start with the person next to you. It won't start with your kid. It won't start with your husband or your wife. It won't start with your boss. It won't start with your colleague. It won't start with your teacher. It won't start with your friend.
A gentler, kinder 2016 starts with a kinder, gentler you.
Here's the thing though. A kinder, gentler you means being kind and gentle to yourself. Now that can be super hard. But it's something you have to do for yourself. It means putting yourself first, not in a selfish way, but in a loving way. Because how can you take care of others if you can't take care of yourself? How can you be kind and gentle to others if you're short on kindness and gentleness to yourself?
The wonderful thing about this is when you're kind and gentle to yourself, you become so much more loving, so much more joyful. The people around you can sense that. Do you know how much an impact you have on those around you? A big one, my friend. The love and joy you radiate makes others feel loved and joyful too.
So here's to being kind and gentle to ourselves this 2016. You can do it. WE can do it. Think about a kind and gentle thing you can do for yourself right after you read this blog post. Then embrace the joy and love you'll feel. It'll be awesome.