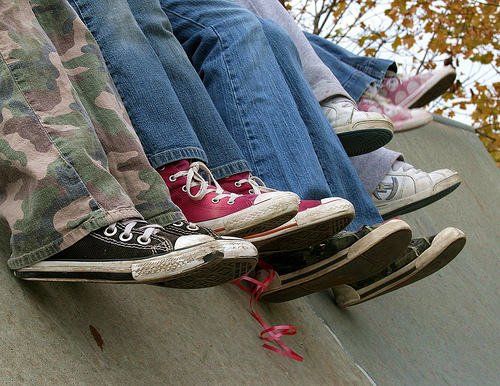 We made a pact that summer. Ten years later, when we were twenty-six, we would ALL still fit in our jeans — the same jeans we were wearing that day. We all felt we could live up to that promise. It was an optimistic summer.
Ten years later, here we are. Waistlines expanded.
Cameron has five children now. She added ten inches to her waistline, one for every year since that promise.
Rita grew a butt. Puberty caught up with her at seventeen and she suddenly had a huge bottom. It's her biggest asset to-date, no pun intended.
Bella grew skinnier. She turned anorexic in college. She's all skin and bones, but still doesn't feel she's thin enough.
Tricia went through a lot of bad breakups and a lot of ice cream cartons. Enough said.
I grew five more inches after that summer.
None of us fit into our jeans anymore, but we've all kept those summer jeans. Cam has hers framed in her crafts room. Rita's still hangs in her closet. Bella turned hers into a pillow. Tricia kept hers in her high school treasure chest. I have mine hanging behind my bedroom door.
It's a part of high school that we don't want to let go of — promises during a hopeful summer, when we didn't know any better. It's a reminder of friendship — each of us touches the denim fabric when we need a little telepathic strength. It's a symbol of hope — maybe we do want to fit into these same jeans again and feel the optimism we did that summer.
(Written Sept. 26, 2009. This was inspired by a promise my college friends and I made. Out of the four of us who made that promise, I believe only two still fit into their college jeans.)