Ibong Adarna was one of the books I enjoyed reading for school. Brothers Don Juan, Don Pedro and Don Diego searched for the mystical adarna whose song can heal their sick father King Fernando. I wish I had kept that book from Filipino class, with its frayed edges, dog-eared pages and all. If I want to reread it today though, I can do it in a more hi-tech way. Ibong Adarna is available as an interactive e-book!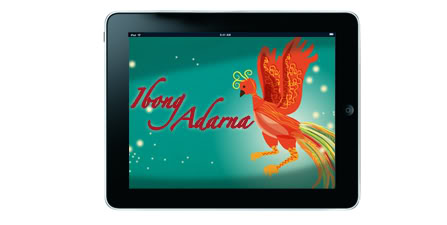 It's the first of its kind here in the Philippines. Produced by Vibal Foundation's Vee Press, it has a "read-to-me" feature that makes it play like an audiobook, complemented by full-color illustrations and animations with Filipino motifs.
I'm big on reading, especially classics taken up in school. Back then I felt like some of the required reading were being rammed down our throats by teachers. Encouraging students to read required classics should be, I think, done in the most engaging way possible. If an interactive e-book will encourage this generation to read more, I'm all for it.
Ibong Adarna is just the beginning of many children's books that Vibal and Vee Press will soon publish in print and digital media. You can read the book via Amazon Kindle, Sony E-Reader, Nook, BlackBerry, iPhones, Macs, PCs, and tablet computers like the iPad.
This will be available at the Apple iBookstore on January 25, so watch out for it. Here's the trailer:
Ibong Adarna e-book trailer
I wonder what's next. Florante at Laura? Noli Me Tangere? El Filibusterismo? This is a very exciting new journey in making the classics even more engaging for this generation.