My curly friend J. Ana tagged me with this sparkly present. She baked these cupcakes herself. A double sweet present!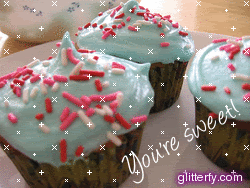 To keep this meme going, I'm tagging 5 of my bloggers friends:
The Empress Maruja.. Highly creative Gracey. Cooking whiz JMom. Perky Jeanny. Hot mama Meeya.
And I am giving them this sparkly badge featuring one of my all-time favorite cartoon characters:

[Glitterfy.com – *Glitter Photos*]
So taggees, keep the meme going by sharing your 5 featured friends for the week, inform them of the tag to keep the ball rolling. And throw in a sparkly badge for added cuteness (click on the above badge and you'll be taken to a place full of glittery badges you can personalize).