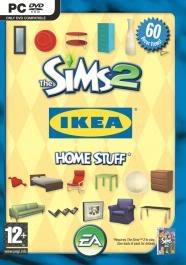 Ah, the union of two big loves of mine: IKEA and The Sims 2. Perfection.
I almost jumped up and down in my seat when I saw the announcement. Okay, I did jump up and down. The excitement cannot be contained! More furniture! More decor! More style and sophistication for my virtual dollhouse!
IKEA designs for me are simple but sophisticated. I love their smooth, clean lines. I'm still fantasizing about a red loveseat I saw in their 1999 catalog. *sigh* I love how cozy their furniture are and how their trinkets and accessories can range from the classic to the whimsical. I can spend hours in IKEA. Too bad there's no IKEA here in the Philippines. But hmmm, maybe that's not a bad idea after all. I'm sure I'll spend a good chunk of my salary on IKEA stuff. Red loveseat or groceries for the month? Red loveseat! 😀 Haha, I kid, I kid. Or not.
And The Sims 2… after many years, I still cannot shake off my addiction. And this new stuff pack is exactly why. EA Games releases Stuff packs and Expansion packs every year. Just when I think I'm cutting my ties with the video game, a new release lures me back. Gah. Like this IKEA Stuff pack.
Some game sites say it'll be released by the end of June. You can pre-order at The Sims 2 site. And oooh, check out the IKEA Stuff page to see the new furniture designs and styles here: IKEA Home Stuff.
And. I. cannot. wait.
P.S. While we're at it, there's talk of an Expansion Pack called The Sims 2: Apartment Life due to come out in September. *falls off seat* [source]