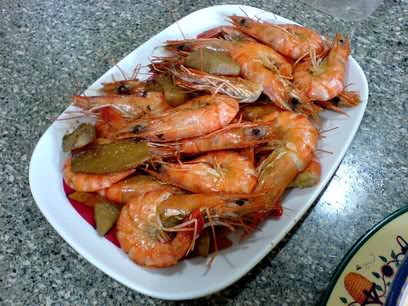 We served this with the Beef Nilaga of the previous post. Surf and Turf!
Saute sliced ginger in hot oil. Slide in the shrimp and cook till they turn orange. Season with salt and pepper. Serve with vinegar and chopped garlic on the side.
Easy as 1-2-3 right? This is one of H's specialties.

Other ideas are to marinate the shrimp in Royal Tru-Orange or Sprite for a sweet tang, toss in lots of garlic and onions in the saute, sprinkle red pepper flakes on the shrimp and lots more. As dip alternatives, you can serve soy sauce with hot pepper or lemon butter sauce. This is how I like my shrimp though — fresh shrimp cooked plain and simple. Yum!