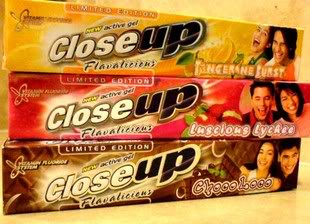 Chocolate, lychee and tangerine that's good for your mouth? Yup yup yup! Close-up has come out with a limited edition line — the Flavalicious variants in Choco Loco, Luscious Lychee and Tangerine Burst. Being the eager beaver that I am, I've tried them all!
Tangerine Burst is like brushing with an orange candy rolling around inside your mouth. Luscious Lychee is like having dessert. And Choco Loco is like having the best of both worlds — a chocolate that's good for your mouth! It's my personal favorite. The great thing about these toothpastes is that while the distinct flavor of each variant is the first thing that hits you, you don't lose out on the minty toothpaste taste.
I especially like brushing with Choco Loco when I'm craving for a chocolate bar but I don't want the sugar. I just grab my toothbrush, my Choco Loco and brush away. It's like brushing with Andes Chocolate Mint. This is a must-try for chocolate lovers!
Let me know what flavor suits you!