In a previous entry, some of you asked what a Swiffer sweeper is. Here's what it looks like: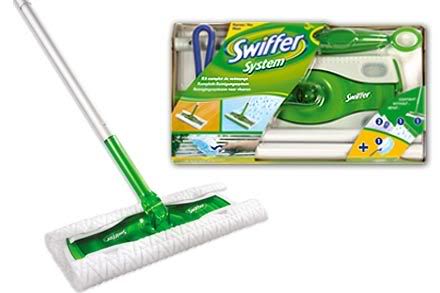 Image credit: Swiffer
It's like a broom and a mop in one. When I use my broom, I find that the dust flies around with each sweeping. It gets pretty annoying. But after using this Swiffer Sweeper, I find that I don't have that problem. Plus it gathers more dust than a broom.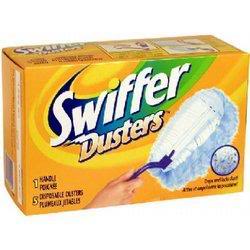 Image credit: Buy.com
And for dust on surfaces, I love the Swiffer Duster. It's got "fluffy fibers" that trap dust instead of just pushing it around. Same problem I had with the broom. So the Swiffer products dust AND trap the dirt.
For refills of these two products, I've seen S&R (The Fort branch) carry Swiffer Sweeper refills. The Duster refills I get from relatives who come from the U.S. I haven't seen any duster refills here yet. If you know where I can get some in Manila, I hope you could let me know!
For more information on Swiffer products, you can go to their website.
There you go! Two of my favorite cleaning gadgets. And since H has taken over my share of Swiffering at home, he's become a huge convert too. 😉