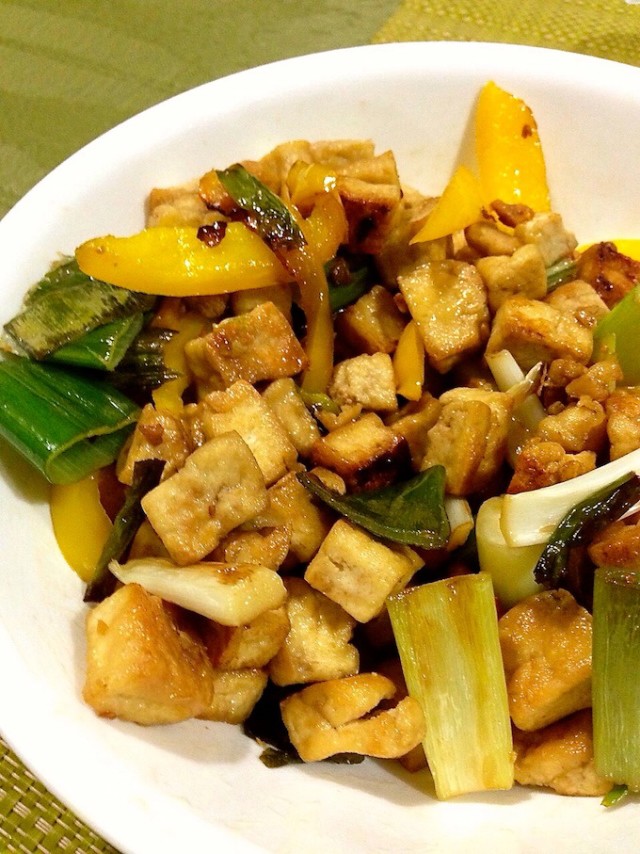 Quick to make dinner dish! 
Stir-fry tofu can be made even more delicious when you've got leeks, mushrooms and yellow bell peppers. Here's a recipe I experimented with and that my family has grown to love!
Recipe: Stir-fry Tofu with Leeks, Mushrooms and Bell Peppers
Ingredients:
1 bunch of leeks, sliced into 1″ pieces
1 yellow bell pepper, sliced into strips (you can use roasted bell pepper slices – this makes the dish much sweeter!)
1 bowl of mushrooms (I recommend golden mushrooms or shiitake)
2 cups of firm tofu, cubed
3 tablespoons of brown sugar
5 tablespoons of Knorr liquid seasoning (or regular soy sauce)
5 tablespoons oil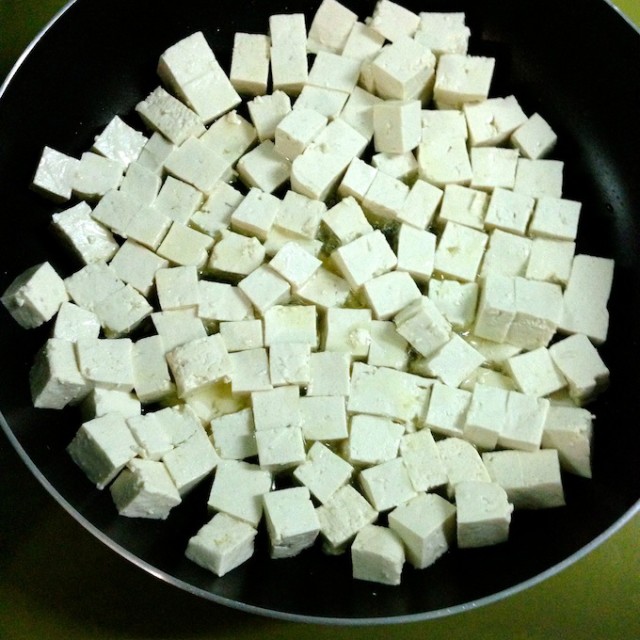 Make them golden!
Procedure:
In hot oil, fry the tofu cubes till they're golden brown on all sides. When done, remove with a slotted spoon and place in a bowl.
Sprinkle the tofu cubes with the brown sugar and Knorr liquid seasoning. Stir to coat the tofu cubes. Let sit while you do the next steps.
If there's too much oil, remove excess with a spoon. In the same pan, slide in the leeks. Cook till soft.
Stir in the yellow bell peppers. Stir.
Slide in the mushrooms. Stir.
Stir in the whole bowl of tofu cubes, making sure to spoon out any sugar and seasoning sticking to the bowl. Stir the whole pan so the flavors mix together.
Serve warm.
Done! Other ways you can enjoy this dish:
You can opt to replace liquid seasoning with oyster or hoisin sauce, but at a lesser quantity since they're much more flavorful.
Stir in some ginger strips for a more comforting vibe.
Serve over brown rice. Individual servings give off a hearty vibe too!
Enjoy!