Sheng of Mother Instincts guests posts today on Wifely Steps, sharing how her relationship with her husband impacts parenthood.
Raising Kids
I was very young when I got pregnant with my eldest and only son, that is if you consider 22 as young. It was a whirlwind, life-changing phase in my life. I was a very hard-working individual who suddenly fell in love with my co-worker, got married and had a child after 2 years out of college. I never thought I could do it, raising kids, that is. For one, my husband and I are both impatient with kids, but we learned to love the baby that was growing in my tummy, until such time I was able to hold the baby in my arms and heard him cry.
The weeks and months that followed were a series of sleepless nights. Only these crying babies love change, and they sleep soundly after a change of their diapers. That meant some horror to me and the hubby — the sleepless nights, the expenditure for milk, diapers and vaccinations and visits to the pedia bore holes to our pockets. But I never heard my husband complain. It was also an eye-opener for me, the adjustment as a couple and the baby crying almost shut me down. We both were first time parents and with less supervision from both out parents. True, we live in my MIL's house, but she was never there all the time as she is teaching secondary education to a school very far from us. She goes home only on weekends to visit her grandson.
Being hands-on with the baby entails so many things to learn, and unlearn, and we didn't get house help because what use will I be if I depend on someone? That went on, until 2 years after, I was given an opportunity to work at a publishing company, went to law school while he was 4, and stopped because I got pregnant again when he was 5.
Luckily for me, MIL retired from teaching just in time for the daughter to arrive. Again, back to sleepless night and back to work when the daughter was almost 2 years old. I never left my kids while they were young. I believed that if I leave them to somebody else, they will have to yearn for my presence yet they get it from a different person, and sooner they will not need me anymore. So we were back to diaper changes, bottle-feeding and visits to the pedia. I read to my kids, every night. I make sure they get to value education through reading. I play with them, and we go out every now and then to bring the kids to places.
My kids are very silent in school, but they are also the active type when at home. Their teachers say if they could only have students like my kids, it will be a very happy school. But we all know students have their tantrums too, my daughter is more mischievous than the kuya, but both of them excel well in school, topping classes every end of the school year. I am just so proud of the two of them.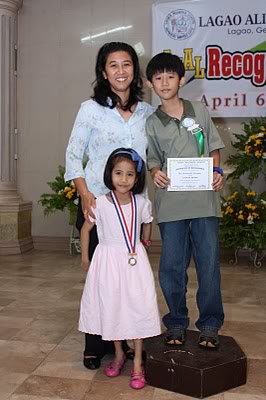 Raising kids is a tough phase for parents, but remember they are our trophies when we get old. In order to maintain the shine of the trophies we have, we must inculcate into our kids the rights values, so they won't get misplaced and will get to the right path.
I am no expert when it comes to parenting, and raising kids is a training ground for me to be patient, humble and to control my temper. But the husband and I have one thing we share with each other that helps our being parents to be effective and to blossom. We RESPECT each other, and respect begets love, and love begets goodness and goodness begets happiness. To raise a child is an achievement; make sure you are a proud achiever when you are and when you get to be one.
*****
Sheng is a working mom during weekdays, juggles 2 kids, a home and a husband 24/7, and has a home-based online job during evenings. She tries to relax by reading books with coffee on the side, and blogging about Mother Instincts in between all these.