I love books — coffee table books, pocket books, text books, books with large fonts, book with small fonts, books, books, books. My husband likes books too — graphic novels and comic books. He's an artist, hence his fascination with different drawing styles and characters brought to life by illustrators. He likes seeing in pictures what he reads. I, on the other hand, prefer to use my imagination.
My love for the Twilight series fascinated him. While I'd always rave to him about good books I had read, it was obvious to him how much I enjoyed Stephenie Meyer's three books. He'd ask about the characters and the premise of each book. Once I'd get too involved in telling him the story, he'd ask me to stop. Perhaps he'd read it one of these days too, he said. What fascinated him the most is that I didn't get freaked out by how vampires are central to Meyer's Twilight world.
But you're my Scare Bear!, he'd tease me. And when I'd tell him how Meyer's books are scaredy-cat friendly, he'd laugh and be even more intrigued by the series. But he never did get to reading the books.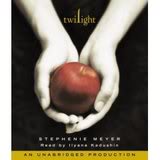 When I chanced upon the Twilight audiobook at Barnes & Noble, I knew I just had to get it. Uggh, the price tag made me stop in my tracks but I thought of the audiobook as an investment. I really wanted to share my love of the series with my husband, and this audiobook did seem to be the best way for him to appreciate it. He enjoyed listening to music after all. It was a good decision to get this audiobook. We started listening to it last Monday evening, and on the way to work on Tuesday morning. Once he dropped me off at work, I thought he'd stop the CD and listen to the radio instead. He proved me wrong, much to my satisfaction. He listened to Twilight on his own, and even asked me questions about the story.
I can see that he's enjoying it. This morning, I grinned to myself as I heard him snort and laugh to some of the situations that I found amusing too. He's already asking me to check out the New Moon and Eclipse audiobooks as well. I find that very encouraging.
While audiobooks are a pain in the pocket, I find that sharing my love of reading with my husband far outweighs that price tag. Finally, we can both talk about a book I love and that he is learning to love too. I still get to use my imagination and he sees images through the story he hears.
And there's always room for one more Twilight fan. 😉
*****
Meanwhile, did you know that buying this audiobook through Amazon is so much cheaper than getting it from Barnes & Noble? ARRRRGH!!! I could have saved almost $20!
Image credit: Amazon