To kick off our upcoming round of the "It's a Wife's Life" blog carnival, we present to you guest posts from select bloggers who talk about their own wifely steps. Rachel from Heart of Rachel lets us in on a recipe she discovered that helps inspire her own wifely steps.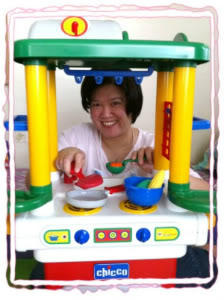 I have to admit I'm helpless in the kitchen. I can manage a good scrambled egg but I have my bad sunny side up days so I will not claim expertise in that department. I can fry hotdogs and chicken nuggets with ease. Boiled rice is no biggie … thanks to the loyal rice cooker. I give high regards to Mr. Microwave. He has never failed me yet. Popcorn is what he does best. I usually run to him for help when the family decides to have a weekend DVD marathon.
Once upon a time, I tried my hands at chopping ingredients into little bits and pieces. Wrapped the ingredients in wanton wrapper and formed mini triangles. I conquered my fear of splattering hot oil by holding the slotted spatula on one hand and arming myself with the frying pan lid on the other. Hubby found the whole protective set-up entertaining. I fried every single triangle without a single exclamation of ouch. Burned a few but most came out alright. It was a major achievement because I did the chopping, wrapping and frying all by myself … a rare feat. It was my Pinsec Frito adventure. The dish passed but not exactly with flying colors. Hubby was very generous and considerate. He gave me an A for sheer effort and entertainment value. haha!
I let my son down several times with pancakes that bordered between toasted and burned but he did not give up on me. After one (lucky) perfect pancake, my little boy professes that I make the best pancakes.
I'm thankful that I'm not pressured to hone my almost non-existent kitchen skills. My hubby is more than happy to cook for the family. He is an excellent chef. Maybe not professionally but his passion for cooking makes him a wonderful chef in my dictionary.
Even though the kitchen is clearly not my domain, I still have a favorite recipe that I regularly make… but it has nothing to do with food.
It's a recipe I encountered somewhere along the way. Sorry I don't remember the source but I would like to share it with you.
The recipe calls for …
1 Tbsp Consideration
1 Tbsp Passion
2 Tbsps Forgiveness
1 Cup Understanding

Mix well with acceptance and admiration.
Preheat oven to 400 and bake until well done.
Serve with a warm smile.
Sounds simple enough but it can be quite a challenging recipe to follow. Being a wife and mother has opened my eyes to the importance of the said ingredients. Together they can create a harmonious balance that makes life more meaningful and worthwhile.
I'm Rachel … I'm a work-at-home mom. I'm married to a culinary aficionado and we have a wonderful little boy who just turned 8. Together we try to balance life's most important ingredients. I share parenting experiences and slices of everyday life on my personal blog called Heart of Rachel.
Inspired? Join our upcoming blog carnival called "It's A Wife's Life!" Learn more about it here.