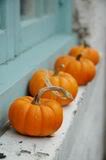 I told you I'd let you know when I'd find a good pumpkin pie here in Manila right? Well, I haven't found it yet. But I did find the perfect pumpkin cupcake at Cupcakes by Sonja. Yowza!!!
When I saw a row of her Pumpkin Sweet Spice cupcakes behind the glass, I almost jumped for joy. Of course I didn't since the place was packed and we didn't want crushed toes now, did we?
I ordered one cupcake. Just one little cupcake. I was taking the cupcake out for a test drive after all. I didn't eat it right away though. I brought it home, chilled it a bit and then bit into its orange perfection.
Now, can you say L-O-V-E? It tasted absolutely divine. One bite into its pumpkin goodness and I was absolutely taken. The pumpkin taste was not strong — it blended perfectly with the spices and the delicious bottom crust. The topping (cream cheese I think?) was a perfect accent too. Memories of sharing Pumpkin Pie with my Aunt at Bakers Square came to mind. Ooh la la.
I did remember to take out my camera, but that's all I did — remember. My hands were too busy opening the little cupcake box. And before I knew it — camera, what camera? Add to that how my dear husband decided to split the cupcake with me. I didn't think he would like it since it was, well, pumpkin. He went "Wow!" at first bite though so literally, I just had half a cupcake. Much to my frustration really.
This might be a seasonal cupcake though, so you and I better go over to Serendra. Each pumpkin cupcake costs P100, but I'm telling you that it's absolutely worth it. I'm counting the hours till I get to sink my teeth into another Pumpkin Sweet Spice cupcake. And this time, it'll be all mine. It's okay to be a little bit selfish, especially if it concerns a cupcake as divine as this!