Farmacy. There's an ice cream store near our office my colleagues and I have been meaning to go to for a long time. "We'll eat there for merienda!" "We'll eat there when we're stressed!" Finally one afternoon we ended up going there for a meeting over ice cream.
View from the corner stools
Farmacy is a soda fountain and ice cream shop by the Wildflour group. Entering the store I felt like I was thrown to the '50s. It reminded me of many movie scenes, particularly the one from The Iron Giant.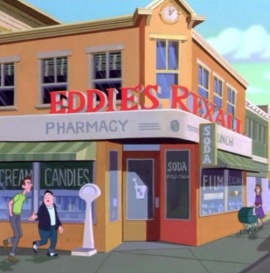 Drugstore from the '50s. A scene from The Iron Giant (Source)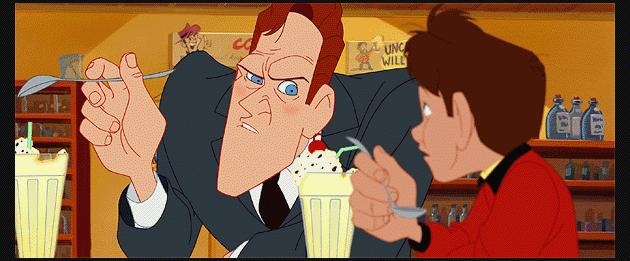 What's in your ice cream, Ken?
(Source)
Farmacy serves ice cream, milk shakes, sundaes, sodas, cookies, beer and tea. They also serve burgers. I found the food a bit pricey though (P200+ for a burger), so we stuck to ordering ice cream.
Some of Farmacy's offerings
I wonder what a "Tin Roof" is. I should've asked. Or Dusty Road. Would that be chocolate ice cream with chocolate powder? Oooh, I love judging ice creams by their names. So intriguing!
Take your pick!
You can taste their ice cream flavors before ordering. You'll be given a small silver spoon. After using it, simply put it inside the bottle labeled "Dirty Spoons". It's on the lower left corner of the above picture. The staff is also friendly. They answered our questions about which ice creams paired well with others, what toppings they recommend, which were bestsellers, and more.
My first Farmacy order
I ordered a double scoop of Pistachio and Banana with Salted Caramel. The pistachio ice cream was nutty and well, very pistacho-ey. (How else could you describe "very pistachio"?) The Banana with Salted Caramel was just all right. I tasted the banana more than the caramel, which was fine with me since I'm not a big caramel fan. I liked it because its sweetness wasn't cloying. I was happy with my order! A single scoop costs P130, a double scoop P160.
Candied Pecans on the side
You can opt to put toppings on your ice cream. They offer cookies, cherries, chocolate chips, various nuts… I chose candied pecans, but asked to have them on the side. One topping costs P25.
Overall, our visit to Farmacy was fun. I like the ice cream and am looking forward to trying their other flavors. I also want to try the malt milkshake. Oooh I also want to try their Banana Split. That's a classic, and I bet theirs will be good. The ambiance was relaxed, which is great for catching up with friends. Even if we were talking business during our visit there, it made the meeting more fun. I'm looking forward to our next visit to Farmacy!
FARMACY Ice Cream & Soda Fountain
4th Avenue corner 26th Street, Bonifacio Global City
Facebook: FarmacyMNL
Instagram: FarmacyMNL