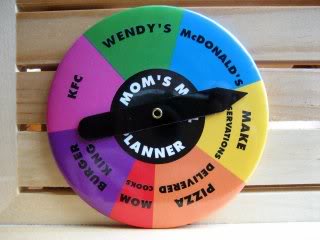 Knowing your luck, if you spin the spinner on this meal-planning-magnet, where would it eventually point to?
I've played with this magnet a lot. Most of the time I end up on the KFC slot.
I've been trying to get back into the cooking groove. I haven't cooked a serious dish in ages. It's always been a little of fried this and that, or sauteed this and that. Not very exciting dishes — filling, sometimes delicious, but not the type that'd make you go "WOW!" What can I say? I'm just lazy. And tired. Thank goodness for take-out! And sometimes if there are just two of you at home, it's cheaper to buy food than to cook food. Can anyone relate to this?
That doesn't mean I no longer want to cook. There's a pack of tuna chunks in the freezer. H was thinking salt and pepper, olive oil, a splash of lemon. I'm thinking we can mix in some teriyaki sauce to that. Anybody have a recipe for turning those tuna chunks into magic?
My kitchen passion badly needs reviving! I have to get back into the cooking groove, lest I fall into absent-mindedly spinning this magnet and going for fastfood a lot. Eep.
P.S. I got that magnet from Universal Studios. Wish I had bought more as it would have made for cute presents this Christmas.