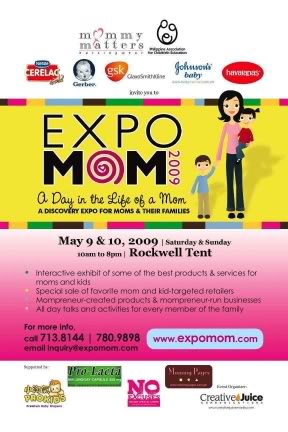 This weekend will be extra special for me as this will be my first official Mother's Day! I'm so excited. H is so funny because he feels the pressure to get me the perfect present. Let's see how he does! 😛
One event I'm looking forward to is Expo Mom! It's a discovery expo for Moms and their families. There will be talks, exhibits, and yes, sales. I'm looking forward to shopping a little bit. Some of my Mom-preneur friends will be there and I can't wait to see them in action. That would be so cool. I'll try to take pictures if they allow it.
I'm looking forward to Rome Kanapi's talk on Happy Belly Health and Fitness. I will be taking childbirth classes with her real soon, so I do hope I get to meet her this weekend too! To see a list of other talks and activities, click here.
Click on the above image for more details too. It'll take you to the Expo Mom website. You can pre-register too and if you're one of the first 500, you get an Expo Mom bag.
Will you be there? I will be! See you!