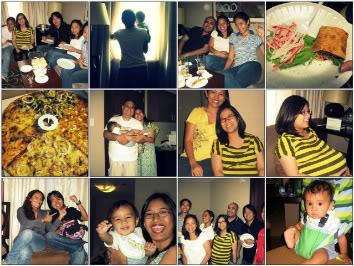 What I thought was a joint birthday party last Saturday turned out to be a surprise baby shower for me and Timmy! Hurrah! My college friends threw a fabulous afternoon party and we had tons of fun. Timmy was kicking in my tummy for most of the afternoon, leaving me extra exhausted. I guess he wanted in on the fun!
It was a shower AND a reunion! It was great hanging out with everyone again and sharing stories over pizza and soda, just like college days. So. much. fun. Most of us haven't seen one another in eons, so it was great catching up.
Two really fun baby shower games were played. You guys should play these when you throw a baby shower! Good times!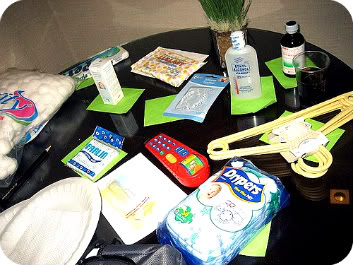 Game #1: The Price Is Right
A bunch of baby items were laid out. Each one had a label with its "wrong" price. The game master picks the first item — for example, a set of 6 baby hangers with the card price P44.75. Team #1 had to guess if the correct price was higher or lower. One point for every correct answer is awarded.

The team with the highest number of points wins!
The right price of the hangers, if you're interested, is around P60.00. Holy cow! We thought it would be lower. And oooh, the ultimate winner of this game was Timmy! All the items in the game were presents for the baby — Manzanilla (for colic), diapers, a baby toothbrush, a huge bag of cotton balls, etc. Yey!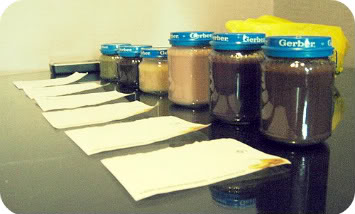 Game #2: Guess the Baby Food Flavor!
Bottles of baby food were laid out. Using our senses (sight, taste, smell), we were to guess what flavor each was. Can YOU guess what these flavors are? From left to right, the color of the baby food was: green, purple, yellow, yellow-pink, bluish purple and yellowish-purple. C'mon, give it a guess! 😉 The person with the most correct answers wins!
A clue on the green one: While it grossed most of my friends out, I enjoyed it. It wasn't that bad, even though it tasted like a runny version of that vegetable. And one of my friends used it later as a salad dressing — it wasn't that bad at all. So there you go — this particular green baby food as salad dressing? It can work.
H & I were over the moon with my college friends' surprise. Thank you, LHC, for all the love.