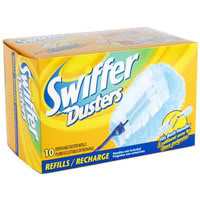 I have a new sidekick to combat dust: The Swiffer Duster.
My Mom highly recommended this to me, so I decided to give it a try. My current microfiber cloth seems to work well enough so I was a bit reluctant. But hey, if Mama says it's good, then it must be good.
I'm so happy with it! It does clean out the dust thoroughly. It doesn't send the dust up in the air and back on the furniture. It traps the dust in its textured strips and fluffy fibers. It looks cute too. And it actually makes dusting less of a chore. I'd go for any product that helps with that! Now if only I had known they sold refills with that Fresh Citrus scent, I would have bought boxes of it before coming back to Manila.
And no, this is not a paid post. It's just a product that I really like. I also love the Swiffer Sweeper by the way, but that deserves an entry of its very own. 😉
Swiffer is ? !
Image credit [link]