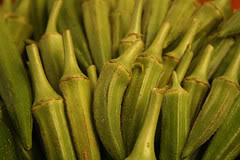 "Did you know okra is an aphrodisiac?," my friend asked over lunch. All of us at the table went, "No way!" It was the first time I heard about it. Okra? One of the most-hated vegetables, is an aphrodisiac? Interesting. Here are some of my theories why okra is a vegetable of hot lovin':
1. It's sticky and slimy. Maybe that texture makes it appealing in a sexual way. Maybe.
2. Its long, slim shape. Two things here: it either resembles a penis or fingers (it's called "lady fingers" in English, right?). So maybe that resemblance to those, well, erogenous zones could be the reason.
And then, there's the fact that okra is "rich in Magnesium, is a natural relaxant and contains Iron, Folates, Zinc and Vitamin B, all food for the sexual glands." (source)
It's also said that okra is most potent as an aphrodisiac when prepared (steamed or blanched) and served with lemon juice. So maybe instead of chocolate and oysters, you and your partner can have a sexy dinner of steamed okra. Give that much-hated vegetable some attention!
As I said, those are my theories. They have yet to be proven. Ha! Stories would help. Have you heard of this before? Is it true? Enlighten us!
(Image by galant)