I've invited Cess of Cessna In Flight to do a guest post on her own wifely steps. Her heartwarming piece reminds me of the song "I Wanna Grow Old with You" from The Wedding Singer.
Reading glasses
It happened a few months ago but I still remember every detail as if it happened only yesterday. Our eldest son asked daddy for help in assembling a toy, the instructions for which were written on the box. My husband read, and read, and read. He squinted his eyes, held the box at one hand, two hands away, and read. Held it up at arm's length, and read. Went over to the window, and read. Finally, he said, "Mommy, wala akong mabasa."
"What do you mean?!," I asked, fighting hysteria. I grabbed the box from him. What did he mean he couldn't read this?! I could read every word! It was a nerve-wracking, hair-raising, this-must-be-a-disaster-movie moment as I grabbed the nearest book and shoved it in his face. "How about this?," I asked, trying to control the mounting panic.
He said all he could see was a blurry mess. I watched him nervously as he held the book up, turned the page to the left, then a bit to the right. Finally, he could make out the words.
And we knew. "Kailangan ko na yata ng reading glasses," he said.
We went to a doctor, who made sure that there were no other medical problems. I heaved a sigh of relief when the doc said that everything else was peachy keen. Then he checked my husband's eyesight. He used to have a 20/20 vision, but tests showed he has become near-sighted with a grade of 100. Doc confirmed that he has difficulty reading in fine print and would need corrective lenses. As he made a prescription, he commented that it was too early for my husband, who was several months away from his 40th birthday, to get reading glasses. But that wasn't unusual. Signs of old age do come earlier for some people, doc said.
I gasped. Old age.
Don't get me wrong – I was not suddenly swept by midlife anguish.
I just couldn't believe that the term "old age" would be used to describe what's happening to us right now. I don't feel old. He doesn't feel old.
And then I realized we've been married for over 11 years. We have 3 children. We can say "Been there, done that" in more than half of what counselors call the Stages of Marriage.
We've been through so many ups and downs, more than I can count. We have laughed together perhaps a million times. We have celebrated countless birthdays, anniversaries, big and small victories. We have cried together and held each other tight during raging storms, and we have basked in the light of great many sunny days.
It only feels like yesterday when we began the journey of married life, but now I realized we've actually been on the road for more than a decade. That's over 4,000 days and counting! And it shows. I now remember the little signs here and there. The strands of white hair on his head. The crow's feet that are framing my eyes. The growing number of fine lines on our foreheads.
And now, his reading glasses.
Ah yes. We are indeed getting old. And I believe, I know, the reason why we don't feel the years passing by is because we are facing every day of every year together. That promise we made years ago about growing old together – we are doing it now. And we don't feel weary in the journey of life because we have each other as a reliable, steady and, of course, super-de-duper fun companion.
I know, I know, old age is just taking a peek on the door. It has yet to fully settle in our bodies and in our lives. We have yet to make our first purchase of Bengay and Flanax. We have not yet drunk our first glass of Sustagen Prime. No bouts yet of hypertension or rheumatism. We are years away from the day we'll apply for senior citizen ID!
I'm afraid I'll still feel shocked as each sign of old age comes a-knockin.' But we will definitely greet each one with a happy hello. A few tears perhaps. But with a whole lot of love and laughter, that's for sure. Because we'll know, with our wrinkly hands intertwined, all these mean we are growing old together.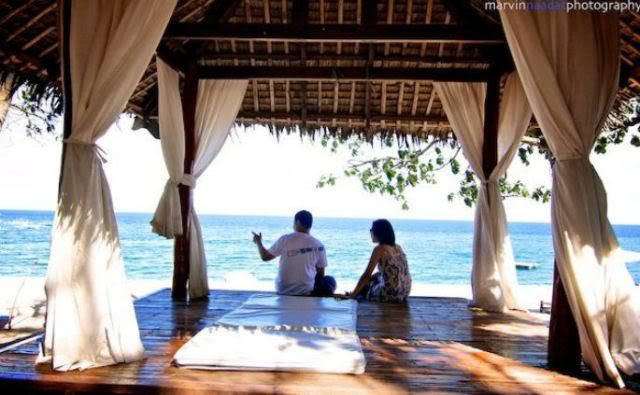 Cessna has been blogging since 2004. She and her husband have been married for over 11 years and are blessed with 3 children.