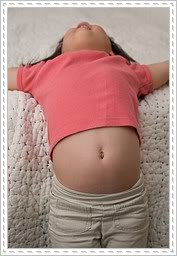 Whenever the toddler meets someone for the first time, he lifts his shirt and shows his belly button. I'd try pulling down his shirt, but he'd insist on pulling it up and showing his belly button again. Then he'll go on and play. Why, oh why, does my 2 year old keep doing this?
I asked his pedia about it and she had an interesting explanation. Our exchange went something like this:
Me: "Doctor, he shows his belly button to people he meets for the first time. Is there an explanation for that?"
Doctor: "Does he like his belly button? Does he play with it?"
Me: "Oh yes. He loves his belly button. He laughs when he sees it in the mirror. He giggles when he sees it. He loves it."
Doctor: "Ah, that could be his way of, let's say, welcoming. He's sharing something he likes with the people he meets. If we offer our hand as a sign of greeting — a handshake, in his case it's greeting with his belly button."
Makes sense, right?
He shows it to other kids. He shows it to Mommies. He shows it to relatives we meet for the first time. He doesn't show it to everyone though. I also noticed he only shows his belly button to people he likes. For instance, he showed his belly button to the clinic nurse when we arrived for his check-up. However, he didn't show it to his doctor. Maybe he remembers her as the scary shot-giver.
Belly button greetings. So if we meet you for the first time and the toddler shows his belly button to say hello, please don't run the other way. Just say hello back, wave or maybe even show your own belly button. Or maybe not. A wave back will do!
Photo source: Photo: "Jade's belly" by , c/o Flickr. Some Rights Reserved.