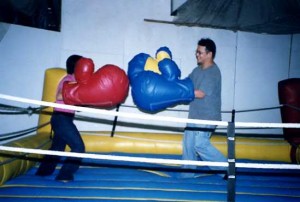 No matter how silly something looks, it's always worth trying. You'll never know what fun it can bring you if you don't try.
There was an inflatable boxing ring in the middle of the mall. The gigantic boxing gloves tempted us. H donned his eagerly, but I was apprehensive. "We'll look so stupid!" I complained. H goes, "Hon, it's okay! Let's play!" And so we started boxing. Those gloves were very heavy. I had trouble maintaining my balance. As I got the hang of it, I discovered it was fun trying to swing and punch each other playfully.
Playtime lasted only five minutes but it was one of the most unique fun moments I've shared with H.
Let the child in you run free. Do something silly to make this weekend special. Happy weekend dear friends!