Leek and Mushrooms. There's something inherently comforting about the combination of those two. Add in scrambled eggs and voila, you've got yourself a comfort dish. That's what was running through my mind when I saw a beautiful batch of leeks at the grocery. "I must have this with eggs," I told myself. "And shiitake mushrooms."
Comfort food in the Making
It's a super easy recipe that's big on comfort. It also is literally a scramble of ingredients in a pan.
Leek and Mushroom Scramble Recipe
Ingredients:
Two eggs, beaten
One bunch of leeks, cleaned and sliced, about 1″
One pack of shiitake mushrooms, cleaned and sliced (one pack for me was about two full handfuls)
Salt and pepper
How to do it:
In a heated, oiled pan, slide in the leeks. Saute till for 3-5 minutes.
Add in shiitake mushrooms. Stir around with the leeks a.k.a. just let them scramble around the pan.
Pour in the eggs. To cook the eggs, you can cover the pan so the top gets cooked. Or you can do what I did: flip the scramble over. Slide a plate on top of the pan, then very quicky (and carefully) flip it over. Then slide the scramble back into the pan.
Season with salt and pepper.
Suggestions:
For added heartiness, you can also mix in grated cheese or different kinds of mushrooms.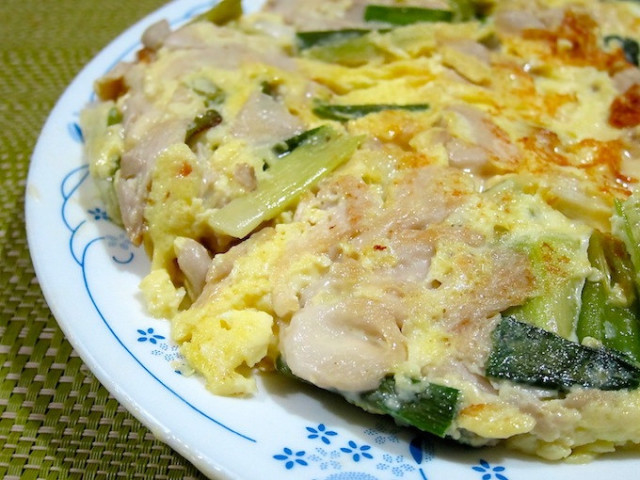 Leek and Mushroom Scramble
You can have this for breakfast. You can have this for dinner too! That's what we did. I added grated cheese towards the last part of the process. My family liked the cheesy touch.
Happy eating!