H & I were driving home one evening when he asked me, out of the blue: "Wifey, what's your favorite animal?"
Me: "Ducks. And elephants. Why?"
H: "Nothing. I just never knew."
Me: "Your favorite animal is a dolphin, right?"
H: "Yep."
Me: "I like ducks and elephants. They're so cute. But maybe that's why my feet look like Donald Duck's or Dumbo's. Maybe I should've chosen something elegant like a swan or something."
Little did I know he was in on a surprise baby shower my friends were planning. The theme? Ducks! 😀
My surprise baby shower was awesome! Highlights:


Despite the very rainy Friday, my friends made it! So surprised to see my family and in-laws there too! Good times! Timmy and I feel so loved.

Chocolate cupcakes by Marga Marquez. So delicious! Too bad I couldn't have more than two because I was watching my diet. I could've gorged on ten easily!

Presents! I got a LOT of diapers. One should never underestimate how much a newborn poops after all! The rest of the presents were duck-themed: we got towels, toys, bibs, a book, onesies, a duck thermometer, a sterilizer for bottles… Plenty awesome!

Catching up on news (gossip?) and stories. I haven't been hanging out with my friends much, so it was wonderful to see them and exchange stories. H & I stayed at the party till 11.30pm only though, as I was getting tired. Cinderella time!

Taking bets on when Timmy's birthday would be. Earliest bet is August 15, latest is September 3. Let's see who wins the bet! No prize was arranged. It's all prestige, baby.

Highlight: H getting most of the party on video. Not so highlight: My digicam conking out! I wasn't able to fully charge it as I didn't know there was a party. Surprise, right? Teehee. I shall rely on my friends' cameras for the party pics.
And plenty more! I was surprised and very happy that Friday evening. Thank you again to my friends and family who were in on this month-in-the-making secret! You guys were so good ha! Nobody slipped.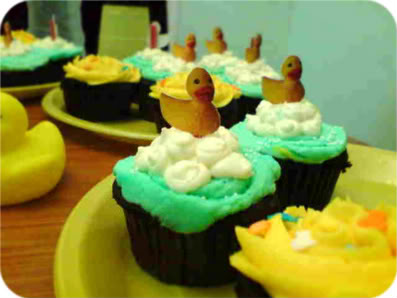 Baby showers are awesome. I'm sure Timmy is going to love all his ducky stuff when he comes out.
Yey!