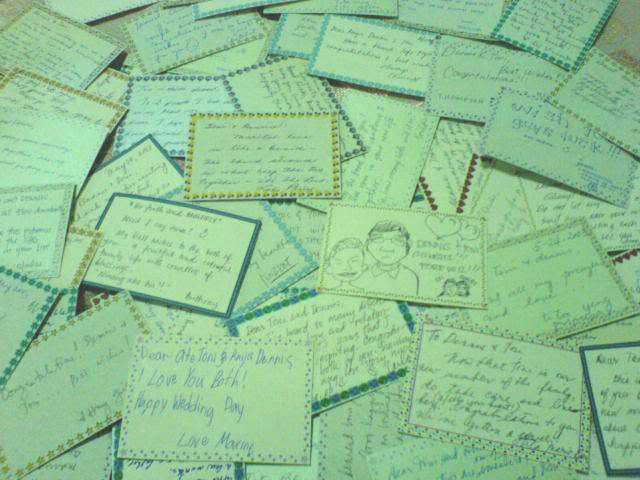 A tip for those who are planning their weddings.
We didn't have a guestbook during our wedding. Instead, my sisters placed pens and notecards on each of the guests' tables during the reception. Each notecard is the size of a calling card with different borders for a fun feel. Our host (my best friend) encouraged the guests to write us notes. My sisters would then collect the cards in a basket. During the course of the reception, my best friend would pick out a card and read it to us. It made the celebration more intimate.
Why did I go for note cards? Guestbooks usually just have the guest's name, his/her address and a quick note. Then there was the hassle of having to pass it around. I didn't want to trouble my sisters with monitoring where the guestbook was. I also wanted to have a personal connection with the guests. I couldn't chat with each one of them lengthily during the wedding so personal notecards were the way to go.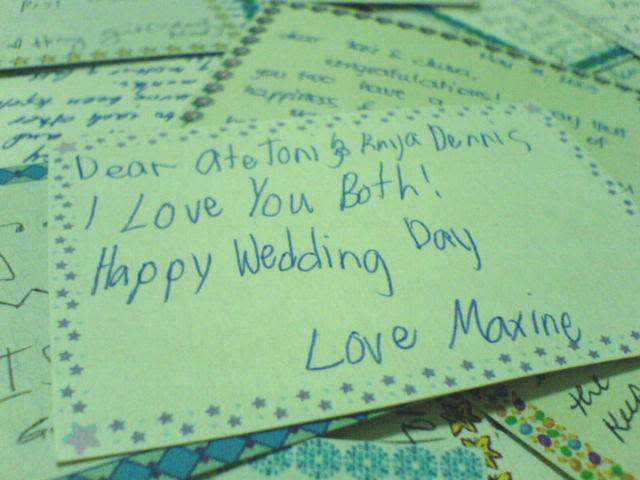 I keep the cards in a box near my wedding albums. I have fun reading through the cards once in awhile. The one above is one of my favorites, written by my kid cousin Maxine. Some notes make me cry, like the touching note written by my grandmother and my late grandfather. Some make me laugh, like the caricatures drawn by our colleagues. Some make me reflect, like the pieces of advice shared by longtime married couples. But all of them make me smile. All of them connect us more intimately to each one who celebrated our special day with us. And even if more than two years have passed since that special day, all of the little notes continue to touch our hearts.