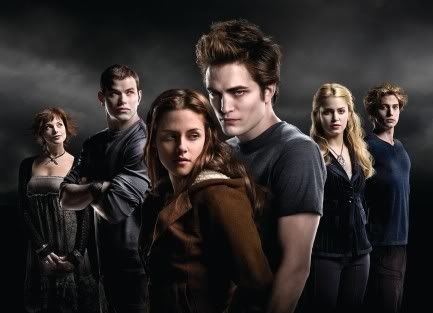 More thoughts and news?
Wow. Wow. Niiiiiiiice.
From left to right, that's Alice Cullen (Ashley Greene), Emmett Cullen (Kellan Lutz), Bella Swan (Kristen Stewart), Edward Cullen (Robert Pattinson), Rosalie Hale (Nikki Reed) and Jasper Hale (Jackson Rathbone).
It's great to see them all in character, in one pic.
Niiiiiiiiiiiiiice.
Thanks to Twilight Lexicon and Cinematical!
***
Twilight trailer. I've read in so many blogs that the trailer will be released when Speed Racer is shown. The question is: Would you watch Speed Racer just to catch the trailer? I think I'll wait to see the trailer online.
***
Official Twilight YouTube Channel. Summit has launched its official YouTube channel for Twilight. Check it out!
😉