I wrote about my favorite cleaning wipes two months ago. Ironically, after that container ran out of wipes, I could not find that same product in True Value anymore. Not in Ace Hardware either. Nope. Not in SM. Not in any other stores I searched. Darn. I thought that was the end of my love affair with Orange Clean wipes.
Then my in-laws and I dropped by Cost U Less along Libis. Look what I found: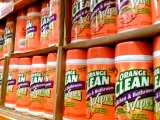 There was a Buy 2 Get 1 Free sale. Did I buy just one? No. Did I buy two so I could get one free? No. Did I hoard? No. I ended up buying this: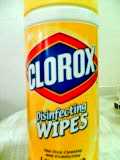 Why'd I buy it? The brand name got me. Hear the name Clorox and you see germs fearfully running away. It was also on sale so I scooped out three containers.
So here's the verdict: I miss my Orange Clean Wipes. I should've just bought them too. But since I was on a budget, I could only pick one brand. Orange Clean Wipes take away little stains. Clorox doesn't. With the way I keep spilling tea on my counter, I need all the help to keep stains away. As for the disinfecting angle, I have an anti-bacterial spray that I use every now and then so that already helps disinfect areas in the home. And oh, I like the citrus scent Orange Clean wipes leave behind.
I'm looking forward to my next trip to Cost U Less. If you see a girl with a grocery cart full of Orange Clean containers, well, you know who that will be.