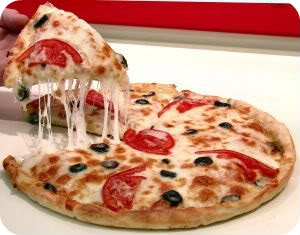 Take out those fondue pots for Valentine's! A pizza retailer claims that cheese could be an aphrodisiac.
Really? Cheese sure doesn't smell seductive!
What's in cheese that makes it romantic? Experts claimed that cheese has a high level of "amphetamine phenylethylamine" (PEA). Ampheta-what? Let's call it love stuff. That means it influences "feelings of love within the brain," more so than chocolate.
I cracked up when I read this. My first thought was, is this a marketing campaign from a pizza company? Ah well, who knows right? It could make for an interesting experiment. Just be wary about cheese breath afterwards. And beware the lactose-intolerant! And for the pregnant ones, make sure you're eating pasteurized cheeses! So no camembert and brie for us. Boo.
The only cheese I know that comes out a lot during Valentine's is cheesy romantic lines. And don't we all fall for it. 😀