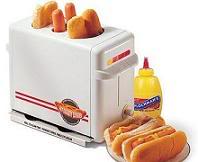 There are many ways to cook a hotdog: Fry it. Grill it. Spear it with a stick and roast it. Boil it. Broil it. What about go toast it?
I would love to have this Hot Dog Toaster in my kitchen. You can toast both the buns and the hot dogs at the same time. Saves on time and space, doesn't it? You don't have to bring out the grill to get that crunchy hotdog skin. Mmmmm. And while you're waiting for the hot dog and bread to toast, go start getting the relish together! Once your toasted bread and hot dogs pop out, you're good to go. Then all you need is a can of soda, a comfortable couch and a good DVD movie. Oh yeah.
I wonder if Italian and German sausages can fit into the hot dog slots.
[via]