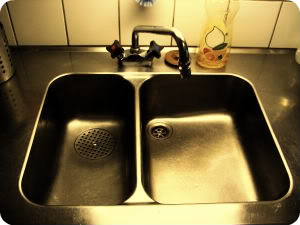 Before going to bed, I always struggle with doing the dishes. The procrastinating me wants to put it off for the morning, the neat freak wants to clean the dishes and sink right away. What usually wins is neat freak me. Not only is it more hygienic, but waking up to a clean, shiny sink is a cheery way to kick off the day.
It's simple anyway. Wash and dry your dishes. Fill the sink with hot water and pour a cup of bleach in it. After an hour, drain the sink. Rinse well. Scrub with your favorite detergent. Don't mix bleach and cleanser — that's poisonous! Rinse well. Then make your sink shine with a window or mirror cleaner. Ta-da! Clean and shiny. I got these tips from FlyLady. I super love her cleaning and decluttering tips.
The last thing you want to welcome your day with is a household chore, right? Uh-uh! So wash those dishes before sleeping. Shine that sink too. A little grumbling in the evening is better than a lot of grumbling come breakfast time, especially when you're caught in the morning rush.
Sink image by SheCat