SouleMama is turning parts of her home turquoise and it looks terrific.
Rosemary Gin Fizz. Sounds refreshing? Sounds intriguing? Head on over to simplyphoto's for the recipe.
There's a food stop called "Eat My GF"? What the… Kitchen Cow tells us more about the store and what G & F stand for after all.
Jasmin shares her recipe for Toasted S'more-Stuffed Strawberries. They look sooooo decadent.
For those mad about Mad Men, Betty Draper shares her "10 rules for ladies." I chew gum, how's that? And how I wish this blog would come back to life.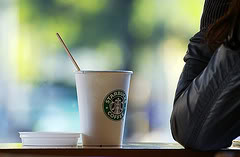 Enjoy your coffee break!
Credit: Image by visualpanic c/o Flickr